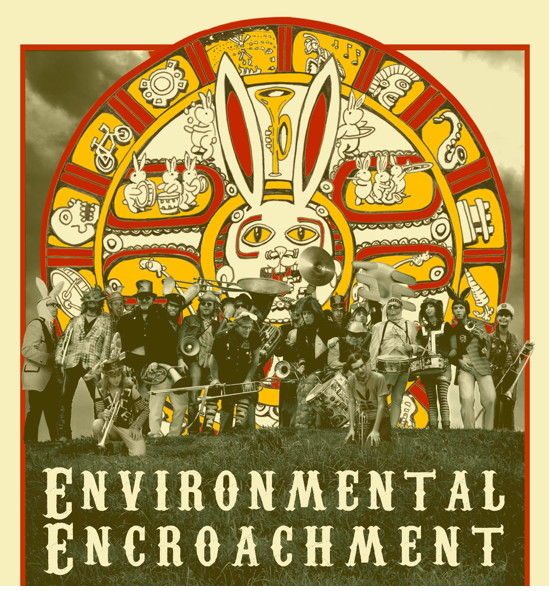 Chicago Brass Band - Environmental Encroachment
Environmental Encroachment (EE) uses a mobile brass band, costumes, performance art and theatrics to create unique entertainment environments for any event.

Upcoming Events: (updated September 6, 2017)
PLEASE HELP SUPPORT OUR INDIE Go-Go Campaign for EE's trip to France (see below):
Click the LINK:
https://www.indiegogo.com/projects/environmental-encroachment-live-in-paris-music#/
Thursday, September 7, 2017
Dill Pickle Food Co-op Ribbon Cutting and Opening
Daytime Event
Music and Opening of the New Locaton on Campbell and Milwaukee
11 AM
Saturday, September 16, 2017
EE performing at Fifolet
Fifolet Cajun
Restaurant and Bar
1945 West Division Street
Saturday, September 23, 2017
Private Daytime Event
Tour d'EE France | September 29 - October 9, 2017

September 29 - October 1, 2017
The "11e Concours International de Fanfare" (11th International Brass Band Contest)
Marseille, France
The International Brass Band Contest Festival - Marseille
15 Bands from around France and the world are chosen to participate.
This festival is being 'curated' by last year's festival winners, Le Pompier Pony Club, from Marseille.
http://www.lepompierponeyclub.com
LINK to The Festival:
http://concours-fanfares2017.fr/index.php?lv=en
October 4-5, 2017
EE in Lyon for Fanfare Fun
2 nights of collaboartions with Fanfare Pustule, and other Fanfare Bands. More info TBA.
October 6-9, 2017
EE in Paris
Performances, Busking, and Picnics
Fanfare Collaborations and Performances with members of:
Les Villains Chicot, Les Muses Tangue, Les Fanfare Invisible

More TBA about our France Tour
CITIES ON TOUR INCLUDE:
*Marseille | September 29 - October 1
*Relaxin' in a Vineyard | October 2-3
*Lyon | October 4-5
*Paris | October 6-9

MUSIC
Link to Downloads thru Band Camp
or
Link to physical disc purchases thru CDBaby
NEW - Four Original EE Songs on our EP.
Check it out on bandcamp. 99 cents a song.
Support Don Rupert.
VIDEO

'Recording of Bunny XII' by Blake B. + Alyce H (YouTube)
A fun video! from our sessions at Wall to Wall Recording.
--------------------------------
"Ya'll are Funky!" Bootsy Collins
"I know they have a great version of Amazing Grace" Joan Baez
"EE, veterans of street action and indomitable spirits" Mark Messing
"You make me want to dance with my six year-old." Alex
"Inimitable." Hungry March Band
"EE has a storied NYC underground history" geminiandscorpio.com
-------------------------------------------------------------------------------------------
Environmental Encroachment (EE)
Copyright ©1996-2017
encroach((at))mindspring(((dot)))com