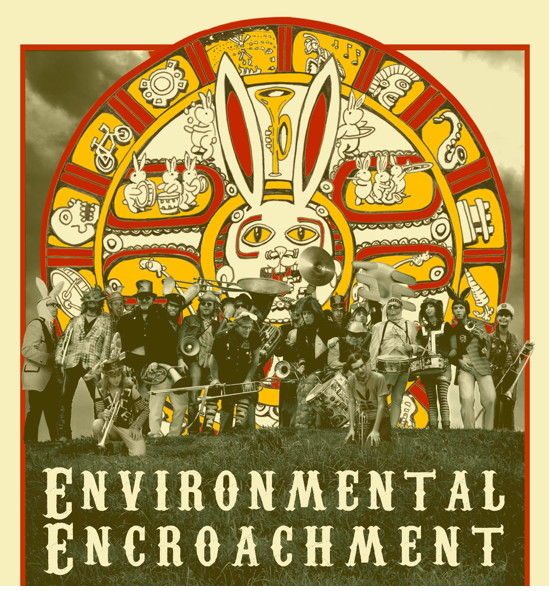 Environmental Encroachment - EE Marching Band - Chicago
Chicago performance art group Environmental Encroachment (EE) uses a marching band, costumes and theatrics to create unique entertainment environments for any event.

Upcoming Events: (updated June 8, 2016)
Thursday June 16 - Sunday June 19
HONK FEST WEST and Northwest Coast Tour
The 9th annual HONK FEST WEST held in Seattle, Washington,
and our following EPIC TOUR taking us through Washington, Oregon, and Northern California.
Official Web Site: http://www.honkfestwest.org
Facebook Page: https://www.facebook.com/events/1673048946282028/
Thursday, June 16th
Brass Band Bonanza
HONK FEST WEST - Travelling Band Pre-HONK Show

Facebook Event Link:
https://www.facebook.com/events/1005761692842984/
Doors 8pm, music at 9p - bands until early morning.
Benefits the traveling bands of HONK! Fest West.
$5-15 sliding scale
All ages
The Stables
980 S Nebraska St, Seattle, Washington 98108
We love Seattle's Georgetown Neighborhood
Friday, June 17th
HONK FEST WEST
"Friday afternoon and evening, we'll be in the Capitol Hill (Seattle) Neighborhood at the brand new 12th Ave. Pocket Park, and Cal Anderson Park!" Schedules TBA.
EE plays at 6.30 and 8.30 PM in Capitol Hill
Saturday, June 18th
HONK FEST WEST
Fremont Solstice Parade ending with party at Gas Works Park
"We're once again teaming with Fremont Arts Council and the Fremont Solstice Parade, with afternoon/evening sets in Gas Works Park!"
EE is the SECOND band listed for the parade.
The Bands participate in the Fremont Solstice Parade. The Parade kicks off at 3 PM from the corner of N. 36th (turns into Leary Way) and 3rd Ave.
The parade and viewing route END at Gas Works Park for a big post-parade party.
http://fremontartscouncil.org/facevents/fremont-solstice-parade/
Gas Works Park Schedule to be released soon.
Shows go on at Gas Works Park on 5 stages til sunset.
Sunday, June 19th
HONK FEST WEST
"In another first, thanks to the fine folks at Columbia City Business Association, we will be bringing our free family-friendly festival to the streets of Columbia City, Seattle!"
EE plays at 1:15 PM at Ferdinand Bike Works.
Monday June 20 - Saturday June 25th
EE Northwest Coast Tour
Oregon and Northern California, maybe Washington
Various Locations TBA.
Monday June 21
PORTLAND OR, Tour's 1st Stop
Smash the Quiet Tour with SambAmore and Chaotic Noise Marching Corps
Show at 7 PM. $5.
Analog Cafe & Theater
720 SE Hawthorne Blvd, Portland, Oregon 97214

FB event page: https://www.facebook.com/events/241321546230773/
Tell your friends in and near Portland, Oregon!

Tuesday June 21
Euonk! - or Yonk!, Eugene Oregon's HONK Festival
First Stop on the post-HONK tour will include EE from Chicago, SambAmore from Arcata CA, and also Chaotic Noise Marching Corps from Seattle. More bands may be joining, and there will also be local acts from Eugene. More TBA
FB Event LINK: https://www.facebook.com/groups/369505843257439/
Wednesday, June 22
Camping with CNMC - TBA
Thursday, June 23
Camping in the area - TBA
(On Hold - TBA in Mt. Shasta)
Friday June 24
EE at Mount Shasta Vets Club

Shasta Veteran's Club
406 N Mt Shasta Blv, Mt Shasta, CA 96067
Times and more TBA
EE is breaking off solo for a show at a wonderful small bar in Mount Shasta, California. Come to this magical place.
Saturday June 25
HONK Tour Collides in Arcata, California~!
Smash The Quiet Tour
Environmental Encroachment, SambAmore, Chaotic Noise Marching Corps, and Pandemic Brass Band
at: Humboldt Brews
856 10th St
Arcata, California
(707) 826-2739
9 PM - $10
http://www.humboldtbrews.com/
Facebook Event:
https://www.facebook.com/events/1711996935714653/
Friday, July 1
Private Event - Chelsea-Michigan
Saturday, July 2
Ann Arbor Summer Festival
EE goes to the Streets of Ann Arbor, Michigan, for Ann Arbor Summer Festival's Closing Date on Saturday July 2nd, 2016.
Open to the public, Free, All ages.
EE plays at 8 PM.
Link for more information: http://a2sf.org
Monday July 4
Beer Garden Party at Phylis' Musical Inn

Phylis' Musical Inn
1800 West Division Street, Chicago, IL

EE plays at 6 PM in the Beer Garden
Thursday, July 14
PRIVATE EVENT - Chicago

Friday and Saturday July 15 and 16, 2016
CRASH Detroit!
More TBA
Saturday's Event page on FB:
https://www.facebook.com/events/832930333485240/
Saturday, July 30
Bughouse Square Debates at The Newberry Library
Day Time Event
The Newberry Library hosts Chicago's Bughouse Square Debates, along with their annual book sale. EE likes to dress up Old Timey style, and will be providing music for the event.
Noon to 4 PM, Free, Open to All.
Location: Newberry Library
60 West Walton Street, across from Washington Square Park

More INFO TBA:
https://www.newberry.org/bughouse-square-debates

"Bughouse Square (bughouse is slang for mental health facility) is the popular name for Washington Square Park. Just south of the Newberry, this park was Chicago's most boisterous and radical free-speech space from the 1910s through the 1960s. Bohemians, socialists, atheists, and religionists of all persuasions mounted soapboxes, spoke to responsive, vocal crowds, and competed informally for attention and donations."
Saturday, July 30
Reggie's Lollapalooza after-party, with EE on the Reggie's Bus.
Evening Event
More TBA
Sunday September 18
on hold - JuiceBox
Thursday-Sunday, October 6-9
HONK! Festival
EE's 11th year at Sommerville's HONK! Festival
More info TBA: www.honkfest.org
MUSIC
Link to Downloads thru Band Camp
or
Link to physical disc purchases thru CDBaby
NEW - Four Original EE Songs on our EP.
Check it out on bandcamp. 99 cents a song.
Support Don Rupert.
VIDEO

'Recording of Bunny XII' by Blake B. + Alyce H (YouTube)
A fun video! from our sessions at Wall to Wall Recording.
--------------------------------
"Ya'll are Funky!" Bootsy Collins
"I know they have a great version of Amazing Grace" Joan Baez
"EE, veterans of street action and indomitable spirits" Mark Messing
"You make me want to dance with my six year-old." Alex
"Inimitable." Hungry March Band
"EE has a storied NYC underground history" geminiandscorpio.com
-------------------------------------------------------------------------------------------
Environmental Encroachment (EE)
Copyright ©1996-2016
encroach((at))mindspring(((dot)))com