| | | | | | | |
| --- | --- | --- | --- | --- | --- | --- |
| | | | | | | |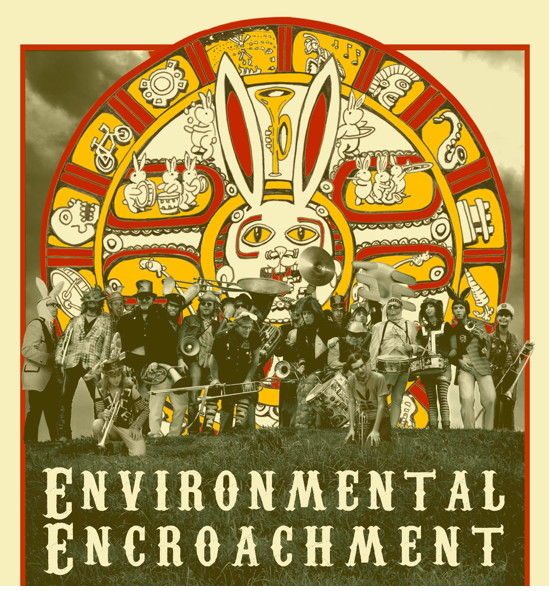 Chicago Brass Band - Environmental Encroachment
Environmental Encroachment (EE) uses a mobile brass band, costumes, performance art and theatrics to create unique entertainment environments for any event.

Upcoming Events: (updated May 20, 2017)
2 Memorial Day EVENTS:
Memorial Day, Monday May 29, 2017
Fifolet Restaurant's Memorial Day Crawfish Boil
Fifolet is a new restaurant in Chicago with a NOLA flavor.
FIFOLET, 1942 West Division Street, Chicago IL
Time: 11am-4pm.
Live music from members of Environmental Encroachment. Abita Tap Takeover. Ticket includes crawfish, all the fixin's and your first Abita draft. Gratuity not included.
Link for tickets:
https://www.eventbrite.com/e/memorial-day-crawfish-boil-tickets-33965964113

LATER THAT DAY:
EE Bizaar and Fund-Raiser Memorial Day
Phyllis' Musical Inn Beer Garden
Phyllis' Musical Inn
1800 West Division St, Chicago IL
EE members will be setting up a "Market-place", with art, crafts, vintage items, instruments, oddities, and of course EE merchandise.
There will also be Tarot Readings, and Astrological Consultations available. all kinds of fun stuff
MORE INFO TBA
June 1-10 - HONK West Festival - 10th Anniversary+ TOUR
EE's 10th trip to Seattle, and an epic tour to follow featuring:
Eugene Oregon's HONK Festival!
Thursday, June 1
Brass Band Bonanza and Pre-HONK West Festival Party

We kick off HONK! weekend with Brass Band Bonanza, our Thursday night showcase of traveling bands at the amazing Hale's Palladium.
All Ages - 8 PM - 1 AM
Donations requested to support traveling bands.
Hale's Ales - 4301 Leary Way NW, Seattle, Washington 98107
FB Event Link: https://www.facebook.com/events/774149222763696/
Friday, June 2
GEORGETOWN ROMP~! - HONK West Festival
Friday evening, HONK West returns to the Georgetown neighborhood from 6:00 p.m. to 10:00 p.m., with bands playing their hearts out at four HONK! stages. *And you just know there's going to be an epic drum battle under the bridge!
Georgetown Neighborhood, Seattle, Washington 98108
Family Friendly
Free (Donations Encouraged)
FB Event Link: https://www.facebook.com/events/1887204664870440/
Saturday, June 3
Pioneer Square and Waterfront - HONK West Festival
HONK is making our first-ever trek into Pioneer Square, and will be at Occidental Square Park from Noon until 4:00 p.m.
There will then be a short procession focused on artistic expression, followed by evening sets at Waterfront Park from 5:00 p.m. until 9:00 p.m.
Family Friendly
Free (Donations Encouraged)
Occidental Park
150 Occidental Ave S, Seattle, Washington 98104
FB Event Link: https://www.facebook.com/events/1823303471329449/
Sunday, June 4
Columbia City - HONK West Festival
HONK West's family-friendly festival returns to the streets of Columbia City, Seattle! Look for us at the intersection of 37th Ave. S. and S. Ferdinand Street from 2:00 p.m. until 6:00 p.m.!
Family Friendly
Free (Donations Encouraged)
FB Event Link: https://www.facebook.com/events/110769186157081/
Monday, June 5
TOUR~! - HONK West Tour Begins~!
Bands:
Artesian Rumble Arkestra (Olympia)Opens,
Jefferson Street Parade Band (Bloomington, IN)
Environmental Encroachment (Chicago, IL)

Rhythm and Rye - 311 Capitol Way N
Olympia, Washington, WA 98501
7:30 to 11:00 PM
Wednesday, June 7
HONK West Tour
Stormy Mountain Brewery, Lake Chelan WA

HONK Tour will be going east of Seattle into the beautiful mountains, to an event hosted by our friend Garth, who is owner at the fabulous:
Stormy Mountain Brewery
133 E Woodin Ave, Chelan, WA 98816

Bands will be playing at Stormy Mountain Brewing and Public House.
More INFO TBA.
Saturday and Sunday, June 10th and 11th
HONK EUGENE - HONK West Tour
The third annual Honk! Fest Eugene is now TWO days!
Saturday in the Whiteaker and Sunday location TBA.
LINK: www.Honkfesteugene.org for more info
List of confirmed bands so far (many more to come!):
Bandemonium (Arcata, CA)
Bloco (Arcata, CA)
Beat Crunchers (Eugene, OR)
Environmental Encroachment (Chicago)
Jefferson Street Parade Band (Bloomington, IN)
Kef (Eugene, OR)
Samba Ja (Eugene, OR)
Completely volunteer planned, organized, and performed, HONK! Festivals are a part of a global renaissance of community street band culture. Funky, radical marching bands representing diverse musical influences play at street level, dissolving the line between crowd and performers, and co-creating the passion and joy of Mardi Gras and Carnival. Like all HONK! Festivals, HONK! Fest Eugene is family-friendly and free.
Many HONK! bands are multi-generational, non-profit, and deeply engaged in community-building, playing at public celebrations and fundraisers for social service and justice organizations.
HONK! Fest Eugene features a wide variety of local and touring bands, treating festival-goers to the sounds of Klezmer, Balkan and Romani music, Brazilian samba, Afrobeat, hip hop, and New Orleans Second Line. At full power, these bands create an irresistible spectacle of creative movement and sonic self-expression directed at making the world a better place through individual and collective transcendence.
LAST STOP ON EE's CASCADIA TOUR

Friday and Sunday Afternoons, July 7th and July 9th, 2017
EE leads the afternoon circus procession at The Taste of Chicago.
Parade times will be 3 PM.
More info soon.
Saturday, July 29, 2017
EE Opens The Bughouse Square Debates.
Location: Washington Square Park (aka Bughouse Square), 901 North Clark Street, across Walton from the Newberry

Noon-4 PM. Free and Open to the Public. All Ages.
EE Plays our Set at the Opening from Noon to 12:30.
The Newberry Library will also be having its once a year, Book Sale.
"The 2017 Bughouse Square Debates will take place Saturday, July 29, across from the Newberry in Washington Square Park.
Bughouse Square (bughouse is slang for mental health facility) is the popular name for Washington Square Park. Just south of the Newberry, this park was Chicago's most boisterous and radical free-speech space from the 1910s through the 1960s. Bohemians, socialists, atheists, and religionists of all persuasions mounted soapboxes, spoke to responsive, vocal crowds, and competed informally for attention and donations. The square's core contributors, however, came from the Industrial Workers of the World union members whose radical views and wit made them perennial crowd favorites. In the park's heyday during the 1920s and 1930s, as busloads of tourists ogled the scene, thousands of people gathered on summer evenings. World War II and a post-war crackdown against socialists and communists led to Bughouse Square's decline and, by the mid-1960s, it had all but ceased to exist. The Newberry and community activists officially revived the spirit of the park with the Bughouse Square Debates in 1986."
Saturday, August 5, 2017
Lollapalooza Bus Ride and After-Party
EE with Wild Jesus and the Devil's Lettuce at Reggie's
EE will be on the Reggie's Bus Fleet scooping up folks from Lollapalooza on Michigan Avenue. The free bus will then go to Reggie's for a fun rock show.
EE will be on the bus, also, on the stage after our friends from the awesome band: WILD JESUS AND THE DEVIL'S LETTUCE.
Reggie's Music Joint
2105 South State Street, Chicago
MORE TBA
Saturday, September 23, 2017
Private Daytime Event
EE Tour to France | September 29 - October 9, 2017

September 29 - October 1, 2017
The "11e Concours International de Fanfare" (11th International Brass Band Contest)
Marseille, France
The International Brass Band Contest Festival - Marseille
15 Bands from around France and the world are chosen to participate.
This festival is being 'curated' by last year's festival winners, Le Pompier Pony Club, from Marseille.
http://www.lepompierponeyclub.com
LINK to The Festival:
http://concours-fanfares2017.fr/index.php?lv=en
October 4-5, 2017
EE in Lyon for Fanfare Shows
2 nights of collaboartions with Fanfare Pustule, and other Fanfare Bands. More info TBA.
October 6-9, 2017
EE in Paris
Performances, Busking, and Picnics
Fanfare Collaborations and Performances with members of:
Les Villains Chicot, Les Muses Tangue, Les Fanfare Invisible

More TBA about our France Tour
CITIES ON TOUR INCLUDE:
*Marseille | September 29 - October 1
*Lyon | October 4-5
*Paris | October 6-9

MUSIC
Link to Downloads thru Band Camp
or
Link to physical disc purchases thru CDBaby
NEW - Four Original EE Songs on our EP.
Check it out on bandcamp. 99 cents a song.
Support Don Rupert.
VIDEO

'Recording of Bunny XII' by Blake B. + Alyce H (YouTube)
A fun video! from our sessions at Wall to Wall Recording.
--------------------------------
"Ya'll are Funky!" Bootsy Collins
"I know they have a great version of Amazing Grace" Joan Baez
"EE, veterans of street action and indomitable spirits" Mark Messing
"You make me want to dance with my six year-old." Alex
"Inimitable." Hungry March Band
"EE has a storied NYC underground history" geminiandscorpio.com
-------------------------------------------------------------------------------------------
Environmental Encroachment (EE)
Copyright ©1996-2017
encroach((at))mindspring(((dot)))com