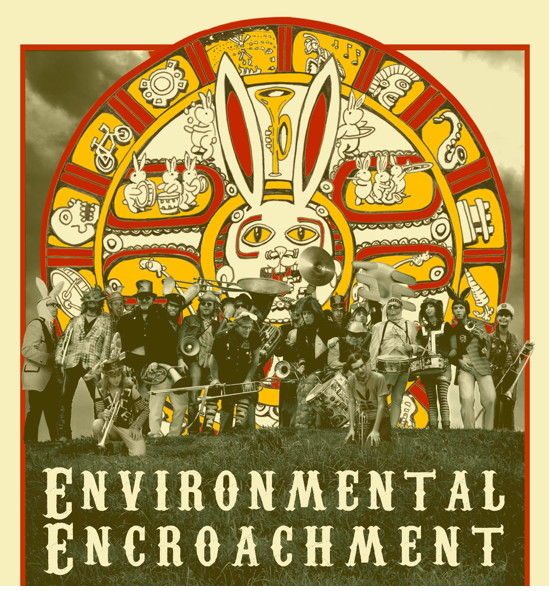 Environmental Encroachment - EE Marching Band - Chicago
Chicago performance art group Environmental Encroachment (EE) uses a marching band, costumes and theatrics to create unique entertainment environments for any event.

Upcoming Events: (updated May 14, 2015)
Private Event - Wedding
Saturday, May 30
Cabaret Church
Sunday, May 31

"Cabaret Church in McHenry, Illinois, 5603 Bull Valley Rd
A radical realignment of spiritual essentials such as acceptance, compassion, and celebration. Cast off preconceptions of community. Join the madness, the beauty, the transcendence of our humanity.
Cabaret Church is Three Things: Art, Compassion, and Resistance.
Art. In all its forms & with glitter & sweat & pain & joy & desire & despair & transcendence.
Compassion. Our art & our lives are better when we work together. Compassion=with (each other) in our passion. It is also respect+love
Resistance. The system want us to conform, consume, & capitulate. We reject all the boxes that try to make us small. We are large, we contain multitudes." BL
Grinnell College Summerfest
with EE and Pyrotechniq Fire Troupe from Chicago
Saturday, June 6

"Join Grinnell College for a day-long celebration of learning and discovery for curious minds of all ages. Immerse yourself in the academic, cultural and social atmosphere of one of the nation's top colleges. Connect, explore, discover! The day includes engaging workshops, creative performances, and family-oriented activities by a range of area cultural organizations. Grinnell Summerfest will showcase brave, collaborative new works in arts and sciences in the beauty of rural America."

Cost: The festival is free and open to the public.
Location: Grinnell College
Grinnell College campus in the city of Grinnell.
Grinnell, IA 50112
http://www.grinnell.edu/summerfest
About Pyrotechniq:
"Pyrotechniq is a 10 member, fully-insured fire performance troupe. Our shows engage any audience with the powerful element of fire combined with dance, prop manipulation, creative costuming, dramatic sound and energetic choreography. Formed in 2006, with over 60 years of combined experience, Pyrotechniq has grown to become one of the most successful fire performance groups in the United States."
http://www.pyrotechniq.org/
Gumbo Ya-Ya Festival
A New Orleans inspired festival in the Quad Cities
Friday and Saturday, June 12-13
EE's second trip to downtown Rock Island, Illinois.
One hour from Chicago.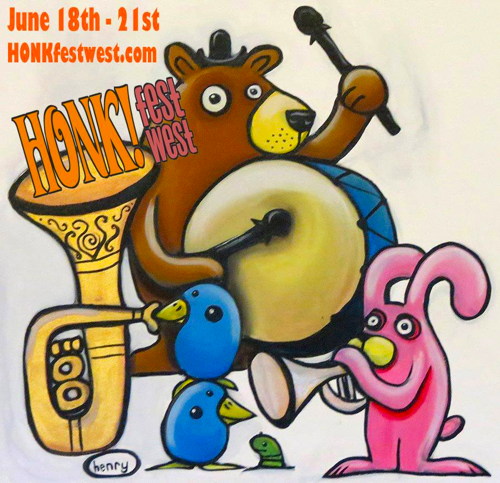 HONK WEST FEST
A Thursday through Tuesday EE tour from Seattle, Washington down the NorthWest Coast of the United States to San Francisco.
This begins as EE's 8th annunal trip to Seattle's HONK Fest West, including our march with HONK bands in the Fremont Solstice Parade. After Seattle, 4-5 bands from the festival will be touring South down the coast on a tour.
Stay tuned to the web site and Facebook Event pages for any updates and news~!
HONK Fest West Facebook page for updates:
https://www.facebook.com/HONKFestWest
Schedule will include:
HONK WEST FEST - Thursday June 18
Pre-HONK benefit for traveling bands
Nectar Lounge
412 North 36th Street, Seattle
(between N Phinney Ave & N Francis Ave)
Seattle's Fremont Neighborhood
EE and other set times TBA
http://www.nectarlounge.com/
HONK WEST FEST - Friday, June 19
Georegetown Take-over: HONK! Fest West OPENS
All Bands for the legendary Georgetown Neighborhood Romp
(corner of Vale and Airport Way)
6 p.m. – 10 p.m.
Music continues until midnight inside
The Mix
6006 12th Ave S Seattle, WA 98108
Free, 21+
EE plays at TBA
then,
at ?TBA - at The Mix
Friday, June 21st will once again be our evening takeover in Georgetown. This small and mighty neighborhood has supported H!FW since the first year, and we are proud to be returning. Bands will be playing 30 minute sets. Select out of town bands and large ensembles will be given 45 minute time slots.
At 10pm, HONK goesinto The Mix, for HONK! After Hours until Midnight.
Visit HONK! info booth set up at all official HONK! events where you can also buy band merch.
HONK WEST FEST - Saturday, June 20 - MORE TBA

The Fremont Solstice Parade with HONK Bands!

Come to this amazing parade; Seattle's largest event featuring a parade with no engines, motors or text.
HONK at Gas Works Park
The parade route ends at Gasworks Park where HONK! will continue with scheduled stage performances until 8pm.
*EE and other band's sets TBA
HONK WEST FEST - Sunday, June 21
TBA

HFW!-NW-TOUR - Monday, June 22
Brass Band Picnic at Greenbank Farm
Whidbey Island, WA
4 PM - 8 PM
Greenbank Farm, Whidbey Island
765 Wonn Rd, Greenbank, Washington 98253
Event Link:
https://www.facebook.com/events/1417299205245851/
Tour down the Coast Link:
https://www.facebook.com/events/685350791593540/
HFW!-NW-TOUR - Tuesday, June 23
Anacortes, WA - Anacortes Music Channel
more TBA
HFW!-NW-TOUR - Wednesday, June 24
Portland, Oregon -
Star Theater
13 NW 6th Ave, Portland, OR 97209
(503) 248-4700
www.startheaterportland.com

HFW!-NW-TOUR - Friday, June 26
Arcata, CA


Humboldt Brews
856 10th St
Arcata, California
(707) 826-2739
http://www.humboldtbrews.com/

Details TBA

HFW!-NW-TOUR - Saturday, June 27
San Francisco, CA
Event in the works.....TBA
HFW!-NW-TOUR - Sunday, June 28


San Francisco, CA

Event in the works.....TBA

Stay tuned to the web site and Facebook Event pages for any updates and news~!
'Pirate Pajama Party' Week-end with EE
EE will be performing an original pirate-themed production at the Amazing CHOPIN Theater for a Friday and Saturday night shows, and a special family and children-friendly Sunday matinee.
The Chopin Theater is a Chicago treasured gem. Please buy tickets and support our co-produced re-venture into fantastic productions.
MORE INFO TBA.
Tickets and details available soon through EE and Chopin Theater.
Friday and Saturday, July 3 and 4th
Voyage to Bunny Island
Chopin Theater
1543 West Division Street
Chicago, IL 60642
Link:
http://www.chopintheatre.com
This show will feature a real pirate ship in waves, with our musical bunnies and friends in search of the fantastic and mythical "Bunny Island" on a real pirate ship, (ship to be named soon).
Pirate Pajama Party is the theme.
Special EE Pirate Pajamas available or byop-j's.
Bar will be open with ID at Theater.
Show begins at 8 PM and will have one intermission and a warm-up act TBA. Downstairs lounge will be our 'pirate's cove'. The Pirate's Cove will feature Ale as well as Sea Shanties led by our own bunny-pirates. Special scurvy-bunny guests.
Sunday, July 5
Escape to Bunny Island (family-friendly children's matinee remix)
Chopin Theater
1543 West Division Street
Chicago, IL 60642
Link:
http://www.chopintheatre.com
A children's-friendly version of our Voyage to Bunny Island show.
This show will feature bunny pirates, song, dance and a pirate ship for an unforgettable ocean voyage.
EE 'dress rehearsal' at SFR
Friday, July 11, 2015

Come visit EE for a series at a venue in Logan Square.
Second Fridays through August, EE will be at:
SFR=Spanish Fly Restaurant
2830 W Armitage Ave, Chicago, IL
21+, donation for band requested
Music 8-11 PM
pre-Crash Detroit
TBA.
Thursday, July 16
Crash Detroit
A uninque festival featuring marching bands suddenly appearing in legendary vintage bars throughout Detroit's neighborhoods.Saturady will feature an all-band review.
Friday and Saturday, July 17-18
EE's second trip to CRASH - Detroit.
http://www.crashdetroit.org
Crash Detroit - Friday, July 17
Various Locations TBA, Detroit
Evening Events

Crash Detroit - Saturday, July 18
Roosevelt Park, Detroit
2200 Michigan Ave Detroit, MI 48216

FREE FOR ALL AGES - Daytime Event
Bughouse Square Debates
Saturday July 25th
Noon - 2.30
Newberry Library Bughouse Square Debates and Book Sale
EE will perform the kick-off at Noon and again around 1.
Free, debates in the park open to the public
Newberry Libary, 60 West Walton Street, Chicago
Ps our FIRST GIG that day, then we go to..........
Horse Thief Hollow Event
Saturday, July 25
Horse Thief Hollow
10426 S Western Ave, Chicago, IL 60643
(773) 779-2739
Around 5 PM.
Brass Band Night in a Beer Garden
Thursday, July 30
EE plays with 4-Star Brass Band and Air Urban Orchestra.
Music starts at 7.
EE plays at 9 PM.
$5-7, 21+
GrandBar
1600 West Grand Ave, Chicago

Announcing EE's Tour to Rio de Janeiro, Brazil
HONK RIO~!
August 6-9, 2015
This will be the first HONK festival in Rio.
EE is keeping its HONK perfect attendance alive~!
More info soon.

MUSIC
Link to Downloads thru Band Camp
or
Link to physical disc purchases thru CDBaby
NEW - Four Original EE Songs on our EP.
Check it out on bandcamp. 99 cents a song.
Support Don Rupert.
VIDEO

'Recording of Bunny XII' by Blake B. + Alyce H (YouTube)
A fun video! from our sessions at Wall to Wall Recording.
--------------------------------
"Ya'll are Funky!" Bootsy Collins
"I know they have a great version of Amazing Grace" Joan Baez
"EE, veterans of street action and indomitable spirits" Mark Messing
"You make me want to dance with my six year-old." Alex
"Inimitable." Hungry March Band
"EE has a storied NYC underground history" geminiandscorpio.com
-------------------------------------------------------------------------------------------
Environmental Encroachment (EE)
Copyright ©1996-2014
encroach((at))mindspring(((dot)))com