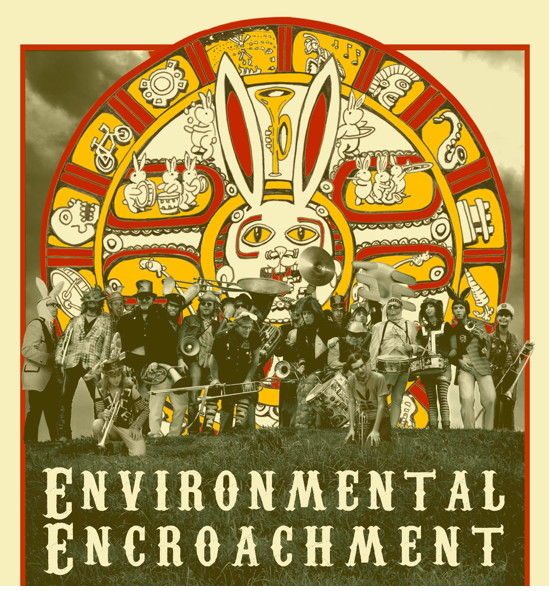 Environmental Encroachment - EE Marching Band - Chicago
Chicago performance art group Environmental Encroachment (EE) uses a marching band, costumes and theatrics to create unique entertainment environments for any event.

Upcoming Events: (updated 7-21-2014)
Art in Pritzker Park
Friday, July 25, 2014
EE plays and performs in this historic downtown park.
FREE daytime performance on a Friday in quaint Pritzker Park.
(the small park just North of HW Library)

Pritzker Park
310 South State Street
FaceBook Event:
https://www.facebook.com/events/562763423833452/
Free, 11.30 AM to 1 PM, all-ages
Bughouse Square Debates and Newberry Library Book Fair
EE in Old Timey Mode
Saturday, July 26, 2014
Noon, all-ages, Free, Historic

FaceBook Event Page:
https://www.facebook.com/events/674743185933884/
The Newberry Library
60 W Walton St
Chicago, IL 60610
(312) 255-3665; fax (312) 255-3680
www.newberry.org
Dill Pickle Club Revival Series hosted by Paul Durica
After Bughouse Square Debates, EE is then going marching, to the MCA,
MARCH with EE marching band from Bughouse Square Debates (above)
at 4 PM to:
The Museum of Contemporary Art
220 East Chicago Ave, Chicago, IL

EE in Old Timey Mode again
Saturday, July 26, 2014
Facebook Event Page:
https://www.facebook.com/events/437152503093628/
Private Event
Saturday, August 9 - noon
Glenwood Arts Fest
Saturday, August 16
EE plays at 6 PM.
Free, all ages
6900 North, 1400 West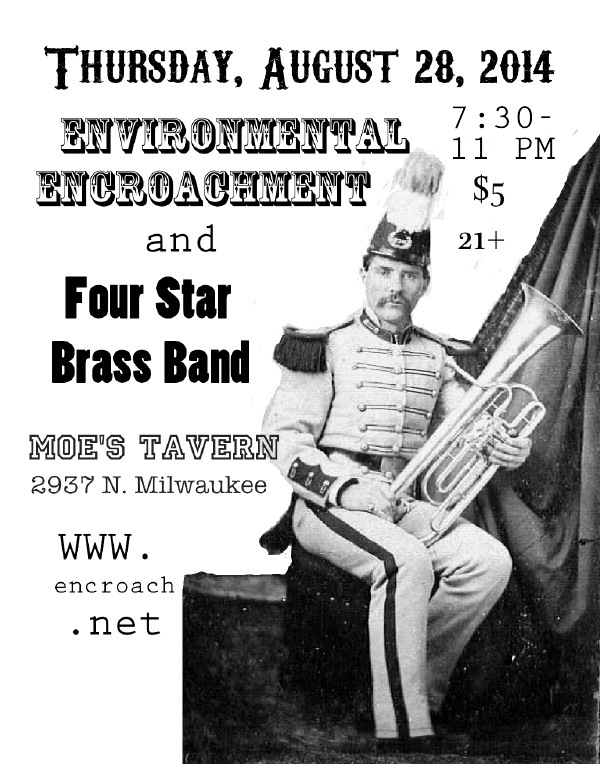 Brass Festival Night with EE and 4-Star at Moe's Tavern
Thursday, August 28
Moe's Taveren
2937 N Milwaukee, Chicago IL
$5, 21+, Music at 9 PM
Private Event - Wedding
Sunday, September 14
HONK!
EE's 9th annual tour to Somerville and Cambridge, MA.
Info: www.honkfest.org
October 9-12, 2014
PRONK
Providence, Rhode Island
Monday, October 13, 2014
HONK-NYC!
New York City~! - TBA
October 14-17, 2014
MUSIC
Link to Downloads thru Band Camp
or
Link to physical disc purchases thru CDBaby
VIDEO

'Recording of Bunny XII' by Blake B. + Alyce H (YouTube)
A fun video! from our sessions at Wall to Wall Recording.
--------------------------------
"Ya'll are Funky!" Bootsy Collins
"I know they have a great version of Amazing Grace" Joan Baez
"EE, veterans of street action and indomitable spirits" Mark Messing
"You make me want to dance with my six year-old." Alex
"Inimitable." Hungry March Band
"EE has a storied NYC underground history" geminiandscorpio.com
-------------------------------------------------------------------------------------------
Environmental Encroachment (EE)
Copyright ©1996-2014
encroach((at))mindspring(((dot)))com