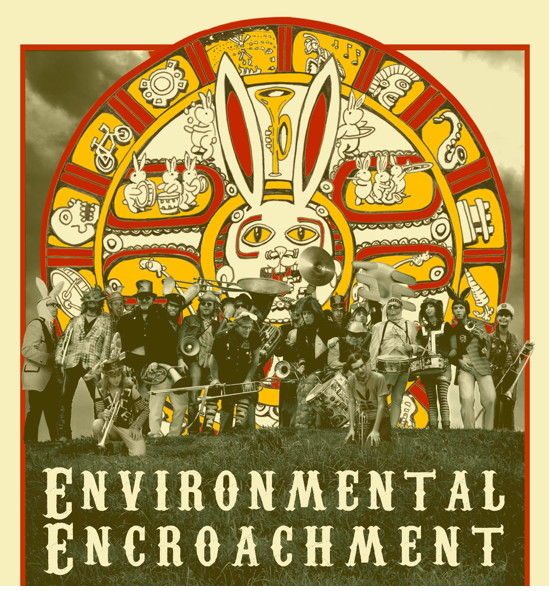 Environmental Encroachment - EE Marching Band - Chicago
Chicago performance art group Environmental Encroachment (EE) uses a marching band, costumes and theatrics to create unique entertainment environments for any event.

Upcoming Events: (updated April 30, 2016)
Friday, May 6th - mini-tour!
EE in Akron, OH with Detroit Party Marching Band
More info TBA. EE will be playing with the amazing Detroit Party Marching Band, the Detroit Pleasure Society, and a local punk band TBA.
Saturday, May 7th - mini-tour continues
Pittonkatonk
A Pittsburgh May Day Brass Band Barbecue
Schenley Park, Pittsburgh, PA 15213, United States
FB event page: https://www.facebook.com/events/1001391483284265/
Amazing Line-up includes:
Detroit Party Marching Band
Detroit Pleasure Society
What Cheer Brigade
Raya Brass Band
Black Sheep Ensemble
Environmental Encroachment
Pittonkatonk is a community celebration in the form of Brass BBQ. When was the last time you danced until you hurt? When you saw a band play in a public space where there wasn't a stage or even a need for a stage? Everyone is treated as a VIP because there are no ticket prices, no vending, nothing holding you back from engaging.
Sunday, May 8
Pittsburgh Children's Museum
1 PM to 2 PM, Free, All-ages
Pittsburgh Children's Museum
10 Children's Way
Allegheny Square, Pittsburgh, PA 15212
Saturday, May 14, 2016
Roller Derby Tournament at Broadway Armory
Event Page: https://www.facebook.com/events/228214240869061/
Join Chicago's own Windy City Rollers as we take on two great teams from neighboring states!
The action starts at 6 PM as the Windy City Rollers' Third Coast takes on the Downriver Roller Dollz from Woodhaven, Michigan. The evening's second bout, at 7:30, will feature the Windy City Rollers' Second Wind versus the Naptown Roller Girls' Warning Belles, out of Indianapolis.
Doors open at 5 PM.
Kids 8 and under are free and do not need a ticket.
Groups of 15 or more receive a 40% discount when all tickets are purchased together. Groups that purchase tickets by Sunday, May 8th will also receive a gift basket of WCR swag at the bout! (Sorry, no swag for group sales past that date.)
Food and drinks (including beer and wine) will be available for purchase at the venue. Cash/CC accepted (consider bringing cash for faster service).
Location:
Broadway Armory Park @ 5917 N. Broadway
Saturday, May 21st, Reserved Private Event
Friday, May 27
Electric Moulin Rouge
FB Event Page: https://www.facebook...
The Electric Moulin Rouge is a Steampunk ball set in the Age of Invention! Treat your senses to a spectacular night filled with exotic shows, world-class musicians, and colossal artworks. Enjoy decadent cocktails, immersive theater, and yesteryear virtual reality tours, surrounded by the splendor of Stan Mansion.
May 27th | 7pm-Midnight

2408 North Kedzie
Saturday, May 28
RESONATE
You will have to check online for tickets to Chicago Burning Man Cmmunity's Big Yearly Event.
Saturday, June 11
Gumbo Ya-Ya Festival - Rock Island, IL
EE's third year to the Quad Cities area for Gumbo Ya-Ya. This is a festival and street party with a Mardis Gras theme. The event takes place on the streets and in the bars of historic downtown Rockford IL.
Thursday June 16 - Sunday June 19
HONK FEST WEST and Northwest Coast Tour
The 9th annual HONK FEST WEST held in Seattle, Washington,
and our following tour taking us through Washington, Oregon, and Northern California.
Thursday, June 16th
HONK FEST WEST - Travelling Band Pre-HONK Show

More TBA
probably Nectar Lounge
412 N 36th St, Seattle, WA 98103

Friday, June 17th
HONK FEST WEST
"Friday afternoon and evening, we'll be in the Capitol Hill (Seattle) Neighborhood at the brand new 12th Ave. Pocket Park, and Cal Anderson Park!"
Saturday, June 18th
HONK FEST WEST
Fremont Solstice Parade and Gas Works Park
"We're once again teaming with Fremont Arts Council and the Fremont Solstice Parade, with afternoon/evening sets in Gas Works Park!"
Sunday, June 19th
HONK FEST WEST
"In another first, thanks to the fine folks at Columbia City Business Association, we will be bringing our free family-friendly festival to the streets of Columbia City, Seattle!"
Monday June 20 - Saturday June 25th
EE Northwest Coast Tour
Oregon and Northern California, maybe Washington
Various Locations TBA.
Tuesday June 21
Euonk! - or Yonk!, Eugene Oregon's HONK Festival
First Stop on the post-HONK tour will include EE from Chicago, SambAmore from Arcata CA, and also Chaotic Noise Marching Corps from Seattle. More bands may be joining, and there will also be local acts from Eugene. More TBA
Wednesday June 22
Camping in the Redwoods - TBA
Friday June 24
EE at Mt. Shasta Vets Club

Shasta Veteran's Club
406 N Mt Shasta Blv, Mt Shasta, CA 96067
More TBA, tell your friends~!
Saturday June 25
HONK Tour Collides in Arcata~!
Bands on tour, including EE, Chaotic Noise (Seattle) and SambAmore (Arcata) will converge for an amazing festival of music with local groups.
Saturday, July 2
Ann Arbor Summer Festival
EE goes to the Streets of Ann Arbor, Michigan, for Ann Arbor Summer Festival's Closing Date on Saturday July 2nd, 2016.
Link for more information: http://a2sf.org
Monday July 4
on hold, PMInn
Thursday, July 14
BANG-Chicago
Crash Detroit!'s pre-party
More TBA
Friday and Saturday July 15 and 16, 2016
CRASH Detroit!
More TBA
Saturday's Event page on FB:
https://www.facebook.com/events/832930333485240/
Saturday, July 30
Bughouse Square Debates at The Newberry Library
The Newberry Library hosts Chicago's Bughouse Square Debates, along with their annual book sale. EE likes to dress up Old Timey style, and will be providing music for the event.
Noon to 4 PM, Free, Open to All.
Location: Newberry Library
60 West Walton Street, across from Washington Square Park

More INFO TBA:
https://www.newberry.org/bughouse-square-debates

"Bughouse Square (bughouse is slang for mental health facility) is the popular name for Washington Square Park. Just south of the Newberry, this park was Chicago's most boisterous and radical free-speech space from the 1910s through the 1960s. Bohemians, socialists, atheists, and religionists of all persuasions mounted soapboxes, spoke to responsive, vocal crowds, and competed informally for attention and donations."
Sunday September 18
on hold - JuiceBox
MUSIC
Link to Downloads thru Band Camp
or
Link to physical disc purchases thru CDBaby
NEW - Four Original EE Songs on our EP.
Check it out on bandcamp. 99 cents a song.
Support Don Rupert.
VIDEO

'Recording of Bunny XII' by Blake B. + Alyce H (YouTube)
A fun video! from our sessions at Wall to Wall Recording.
--------------------------------
"Ya'll are Funky!" Bootsy Collins
"I know they have a great version of Amazing Grace" Joan Baez
"EE, veterans of street action and indomitable spirits" Mark Messing
"You make me want to dance with my six year-old." Alex
"Inimitable." Hungry March Band
"EE has a storied NYC underground history" geminiandscorpio.com
-------------------------------------------------------------------------------------------
Environmental Encroachment (EE)
Copyright ©1996-2016
encroach((at))mindspring(((dot)))com