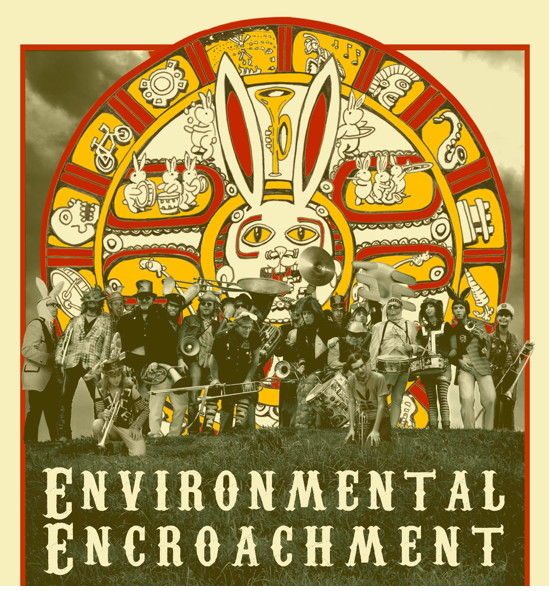 Chicago Brass Band - Environmental Encroachment
Environmental Encroachment (EE) uses a mobile brass band, costumes, performance art and theatrics to create unique entertainment environments for any event.

Upcoming Events: (updated September 29, 2016)
Saturday, October 1st
Chicago Bacon and Beer Classic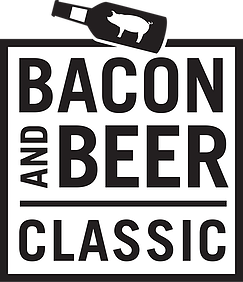 Location: Soldier Field
1410 S Museum Campus Dr, Chicago, Illinois 60605
Restaurants and Breweries participate in a large culinary festival at Chicago's Soldier Field.
All Day Event.

Link for INFO and Tickets:
http://www.baconandbeerclassic.com/chicago-bacon-and-beer-classic-2016/
FaceBook Event Link:
https://www.facebook.com/events/313767055626669/

Thursday-Sunday, October 6-9
HONK! Festival - Somerville, MA


EE's 11th year at Somerville's HONK! Festival, continuing on our East Coast Tour to Providence, and then New York City.
HONK! Fest's Official Site: www.honkfest.org
What is HONK!? - http://honkfest.org/about/
Thursday, October 6
Pre-HONK! Outdoor Showcase at Union Square and Aeronaut Brewery!
7-10 PM HONK Bands will play outside on the plaza in Union Square, Somerville.
9-midnight HONK Bands will play at Aeronaut Brewery (a few blocks down the street)
Aeronuat Brewery
14 Tyler St, Somerville, MA 02143
Schedule TBA
Friday, October 7
HONK! Opening Night.
Friday Evening:
EE, ENSMB and Yes Ma'am Brass Band at PA's Lounge

HONK! Fest 2016 will be kicking off on Friday Oct 7 and there's too much excitement for just one party. While the HONK! Festival Kickoff at ONCE Ballroom is happening, we're also celebrating by throwing another party just a few blocks away at PA's Lounge. Wander back and forth for maximum HONK!

9:00 Doors
9:30 Yes Ma'am Brass Band (Austin TX)
10:30 Emperor Norton's Stationary Marching Band (Somerville)
11:30 Environmental Encroachment (Chicago IL)

PA's Lounge
345 Somerville Ave, Somerville, Massachusetts 02143
21+, $5
FB Event LINK:
https://www.facebook.com/events/573980196118814/

Saturday, October 8
HONK! in Davis Square
HONK in Davis Square
Noon to Nine, 5 stages around Davis Square, Free.
Schedule to be announced at www.honkfest.org
Sunday, October 9
HONK! PARADE - Davis Square to Harvard Square
"Reclaim the Streets with Horns, Bikes, and Feet"
aka The HONK! Parade
12pm – 2pm down Mass. Ave. from Davis Square to Harvard Square
HONK! bands and community groups will parade from Davis Square to Harvard Square's Oktoberfest celebration.
HONK! in Harvard Square & All Band Concert
2pm – 6pm all around Harvard Square
The all band concert will be held on the Main Stage of Harvard Square's Oktoberfest. In addition, some bands will play sets on smaller stages around Harvard Square throughout the afternoon.
Sunday, October 9
BRIDGE THE GAP
EE Collaboration with Sepiatonic Dancers - Somerville Theater


"The event is called "Bridge The Gap", and it is being presented by the music and dance project, Sepiatonic. Sepiatonic is a live and electronic music project, with live circus and dance acts set to our own original music. It's a very dynamic dance party and show in one!
This show "Bridge The Gap" is slightly different from our normal club-style shows, since it is a sit-down theater show, with an emphasis on uniting diverse styles of dance in a cross-genre extravaganza!"
Event: https://www.facebook.com/events/650068485153197/
Website: www.ThisIsSepiatonic.com/bridge-the-gap
Monday, October 10
PRONK! - Providence, RI


EE continues its East Coast tour to Providence, Rhode Island.
"PRONK! returns! On Monday October 10th, 2016, aka Indigenous People's Day, the sounds and sights of street bands from here and around the country and around the world will join activist, artists and musicians in our fair city as part of the NINTH annual Providence HONK (PRONK!) Festival. "
Facebook Event Page:
https://www.facebook.com/events/1764672337110199/

Monday, October 10 at 3 PM - 10 PM
Parade Starts at Burnside Park AKA The People's Park
Washington St, Providence, Rhode Island 02903
*The festival continues through the night with band performances at various locations in India Point Park.

More info and Updates at:
www.providencehonkfest.org
Wednesday-Saturday, October 12-15
HONK! NYC - New York City's HONK Festival.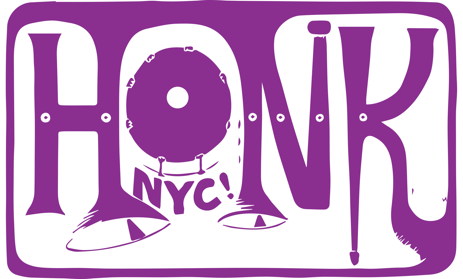 "HONK NYC! was founded in 2007. In town that year post-HONK! were Pink Puffers, Environmental Encroachment and March 4th Marching Band. This "post-HONK activity" became the unofficial after-party to the Boston-Providence fests, and in 2012, we officially became HONK NYC!"
More info TBA.
HONK NYC Facebook Page: https://www.facebook.com/HonkNYC
Wednesday, October 12:
on hold
Info TBA
Wednesday, October 12: Evening:
HONK-NYC Dance Party in the East Village!
HONK NYC annual school night DANCE PARTY returns to the East Village and DROM. Live music by:
Frank London (NYC)
http://www.franklondon.com/
Le Pompier Poney Club (Marseille)
http://www.lepompierponeyclub.com/
Environmental Encroachment (Chicago)
http://www.encroach.net/
and more TBA!

Tickets:
Advance $10, $15 at door
Link for tickets:
http://www.dromnyc.com/events/5784/honk-nyc-annual-dance-party#.V9BSvWWuDeR

DROM
85 Avenue A New York, NY 10009
FB event link:
https://www.facebook.com/events/1760408240892481/
Thursday, October 14:
Daytime event at Maple Street School, Brooklyn
HONK NYC Educational Outreach
11:45 AM to 2 PM
Concert in playground after short march to Prospect Park
More info TBA
Thursday, October 14 EVENING:
SWORDRAISER XI
Snowden Siberia Party at Gemini and Scorpio Loft


Produced by Letter of Marque Theater Company
Fury hats, slavic dances, horns, snow, Borscht, espionage...all these things.
RSVP until Oct 6th for FREE earlybird entry (limit 2 per person)
Presale tickets are $5 after Oct 6-Oct 12 | $10 at the door.
7.30 PM til Late.
http://www.lomtheater.org/swordraiser11.html
"Comrades!
We party in Siberia like our babushkas depended on it!
Join LoM for live performances, dancing, games, raffles and all the Dirty Russians you can handle! LoM's legendary party series returns with
SWORDRAISER XI: SNOWDEN SIBERIA"
Live Music from Chicago's Environmental Encroachment.
Address to party after RSVP.
Le Marque Theater address (producers):
261 Douglass Street (btwn 3rd & 4th Ave)
Brooklyn
NY 11217
Friday, October 14:
Elementary School gig in East Harlem
HONK NYC Educational Outreach
Info TBA
Friday, October 14:
HONK NYC at The Shrine in Harlem

Doors at 8, Live Music follows immediately at 8.15.
Free until 10 - after 10 door is $10

Environmental Encroachment: 8:15 - 9:00
Paprikata: 9:15 - 10:00
Le Pompier Poney Club: 10:15 - 11:00
Spanglish Fly: 11:15 - Midnight
The Shrine
2271 Adam Clayton Powell Jr. Boulevard
Harlem, NYC
http://www.shrinenyc.com/

For info and schedule:
http://www.shrinenyc.com/calendar.php
Saturday, October 15:
HONK NYC Final Band Blowout
Info TBA
Saturday, October 22
Chicago's Halloween Gathering
Spectacle Parade 6:00 p.m. to 8:00 p.m. along Columbus Dr. from Balbo St. to Monroe St.
Free and open to the public.
Link: http://www.chicagoculturalmile.org/event/the-halloween-gathering-festival-parade/
and please come to our After-Party.....
Saturday, October 22
Chicago's Halloween Gathering AFTER-PARTY
Environmental Encroachment will join
Jefferson Street Parade Band from Bloomington, Indiana,
https://www.facebook.com/jeffersonstparadeband/
A fun party, after The Gathering Parade at:
Lost Arts Chicago
909 West Bliss Street (Goose Island)
Facebook Event Link:
https://www.facebook.com/events/667535323406341/
MUSIC
Link to Downloads thru Band Camp
or
Link to physical disc purchases thru CDBaby
NEW - Four Original EE Songs on our EP.
Check it out on bandcamp. 99 cents a song.
Support Don Rupert.
VIDEO

'Recording of Bunny XII' by Blake B. + Alyce H (YouTube)
A fun video! from our sessions at Wall to Wall Recording.
--------------------------------
"Ya'll are Funky!" Bootsy Collins
"I know they have a great version of Amazing Grace" Joan Baez
"EE, veterans of street action and indomitable spirits" Mark Messing
"You make me want to dance with my six year-old." Alex
"Inimitable." Hungry March Band
"EE has a storied NYC underground history" geminiandscorpio.com
-------------------------------------------------------------------------------------------
Environmental Encroachment (EE)
Copyright ©1996-2016
encroach((at))mindspring(((dot)))com