| | | | | | | |
| --- | --- | --- | --- | --- | --- | --- |
| | | | | | | |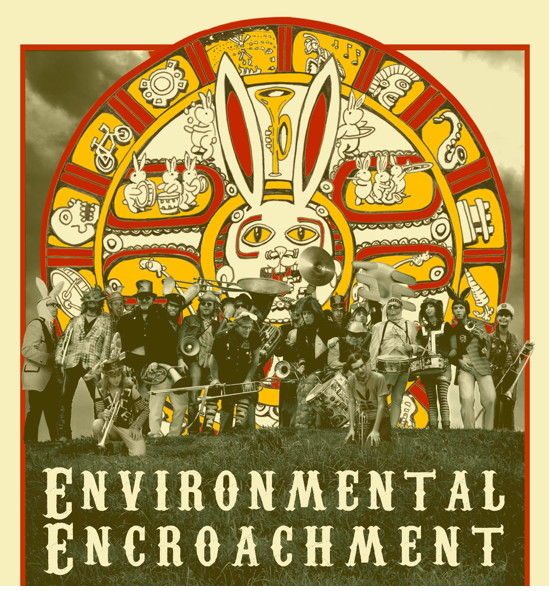 Chicago Brass Band - Environmental Encroachment
Environmental Encroachment (EE) uses a mobile brass band, costumes, performance art and theatrics to create unique entertainment environments for any event.

Upcoming Events: (updated April 15, 2017)
Saturday, April 29, 2017
Carnivale Delerium
A fun night of music, electro-swing, burlesque, dance, and performance.
More TBA
Reggies
2105 South State
Chicago, IL
Friday, May 5, 2017
Cinco de Mayo
EE will be celebrating Cinco de Mayo at our favorite bar, Casa Blanca. Come join the fun.
Casa Blanca
1158 West Grand Avenue, Chicago, IL
9 PM to midnight. Free (donations accepted). 21+
Saturday, May 6, 2017
Higgins' Heroes Music and Fun Fest
Facebook event link:
https://www.facebook.com/events/1689071694724958/
Enjoy a day of live music, craft beers and kid's fun at Blue Island Beer Company to celebrate the life and loves of Brian Higgins! All proceeds to benefit the Higgins Family. Anyone interested in volunteering to help with planning and day-of festivities, please let us know.
$20 entry includes 2 free beers, party food and 6 bands!
Split-the-pot and prize basket raffles if you're feeling lucky...!
Music by:
Toasted Allmans - 8:00
Environmental Encroachment - 7:00
Red Rebel County - 6:00
The Return of Surf Rock Legends... HIT GONE BAD - 5:00
the HŸSS - 4:00
Weird Bananas - 3:00pm
Blue Island Beer Company
13357 Olde Western Ave, Blue Island, Illinois 60406
Sunday, May 6, 2017
Vaughn Occupational Academy School Fair
EE's second year at this special needs high school fair. The school band is run by EE's trombonist Jeremy, and there will other festivities throughout the day. EE plays at ONE PM.
Vaughn Occupational Academy
4355 N Linder Chicago, IL 60641

Memorial Day, Monday May 29, 2017
Fifolet Restaurant's Memorial Day Crawfish Boil
Fifolet is a new restaurant in Chicago with a NOLA flavor.
FIFOLET, 1942 West Division Street, Chicago IL
Time: 11am-4pm.
Live music from members of Environmental Encroachment. Abita Tap Takeover. Ticket includes crawfish, all the fixin's and your first Abita draft. Gratuity not included.
Link for tickets:
https://www.eventbrite.com/e/memorial-day-crawfish-boil-tickets-33965964113

LATER THAT DAY:
EE Bizaar and Fund-Raiser Memorial Day
Phyllis' Musical Inn Beer Garden
Phyllis' Musical Inn
1800 West Division St, Chicago IL
EE members will be setting up a "Market-place", with art, crafts, vintage items, instruments, oddities, and of course EE merchandise.
There will also be Tarot Readings, and Astrological Consultations available. all kinds of fun stuff
MORE INFO TBA
June 1-4
HONK West Festival - 10th Anniversary
EE's 10th trip to Seattle, and an epic tour to follow featuring:
Eugene Oregon's HONK Festival!
June 5-12
West Coast Tour
CITIES ON TOUR INCLUDE:
*HONK in Seattle, WA | Thursday-Sunday, June 1-4
*Olympia, WA | Monday, June 5
*City TBA
*HONK in Eugene, OR | June 9-10

Saturday, September 23, 2017
Private Daytime Event
September 29 - October 1, 2017
The "11e Concours International de Fanfare" (11th International Brass Band Contest)
EE's first trip to Europe: Marseille and Paris and TBA
This festival is being 'curated' by last year's festival winners, Le Pompier Pony Club, from Marseille.
http://www.lepompierponeyclub.com


Tour will include Paris and other shows? TBA
France mini-Tour
CITIES ON TOUR INCLUDE:
*Marseille | September 29 - October 1
*Paris | Dates To Be Announced
*Lyon | Dates TBA
MUSIC
Link to Downloads thru Band Camp
or
Link to physical disc purchases thru CDBaby
NEW - Four Original EE Songs on our EP.
Check it out on bandcamp. 99 cents a song.
Support Don Rupert.
VIDEO

'Recording of Bunny XII' by Blake B. + Alyce H (YouTube)
A fun video! from our sessions at Wall to Wall Recording.
--------------------------------
"Ya'll are Funky!" Bootsy Collins
"I know they have a great version of Amazing Grace" Joan Baez
"EE, veterans of street action and indomitable spirits" Mark Messing
"You make me want to dance with my six year-old." Alex
"Inimitable." Hungry March Band
"EE has a storied NYC underground history" geminiandscorpio.com
-------------------------------------------------------------------------------------------
Environmental Encroachment (EE)
Copyright ©1996-2017
encroach((at))mindspring(((dot)))com