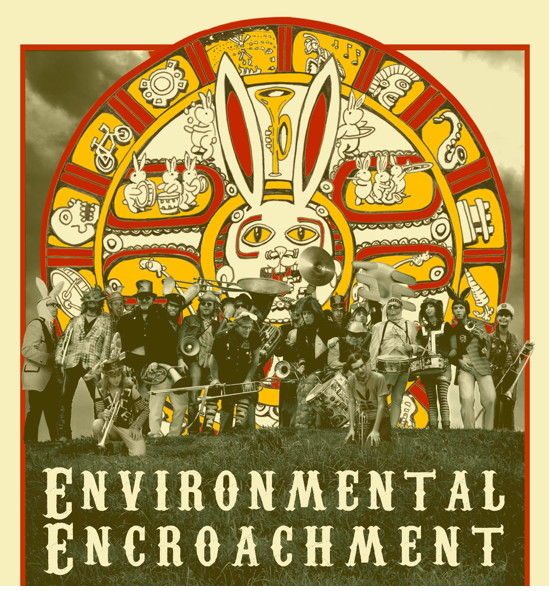 Environmental Encroachment - EE Marching Band - Chicago
Chicago performance art group Environmental Encroachment (EE) uses a marching band, costumes and theatrics to create unique entertainment environments for any event.

Upcoming Events: (updated 4-5-2014)
Easter Eve'n Performance at Collaboraction Theater
Saturday, April 19, 2014

Our Second Annual Stations of the Carrot show, on Easter Eve'n.

TOGA Party, Ancient Costumes Encouraged.
Collaboraction Theater (3rd floor in Flat Iron Building)
1579 North Milwaukee Avenue (corner of Milwaukee, North and Damen)
10:45 Check-In, Doors Open
11:15 PM Show time - Show is 42 minutes.
Open Bar and Dance Party afterwards.
$5-10 recommended.
Chicago Pipe Band Fundraiser
Saturday, April 26, 2014

Doors open at 7.
Environmental Encroachment's set at app. 9.15 p.m.
Times subject to change, stay tuned.
Location:
St. Cornelius Church
5430 West Foster Ave
Chicago, IL
This is our third annual show with the 3 tiers of the legendary Chicago Pipe Band. Wear your kilt!
Chicago Peace Fest
Saturday, May 3
Starts at 4 PM, ends at 2 AM
The Riverside Complex
2343 South Throop Street

Facebook Event Page:
https://www.facebook.com/events/421772214635993/
RESONATE 9 (TBA)
Saturday, May 17
Private Event - Wedding
Sunday, May 25
DO DIVISION Family Fun Fest Stage (TBA)
Sunday, June 1
Rock Island: Gumbo YaYa
Road trip! to Rock Island's Gumbo YaYa Festival
Friday and Saturday, June 5-6
HONK FEST WEST
EE's annual tour to Seattle, Washington
Info: www.honkfestwest.com
June 20-23, 2014
CRASH Detroit!
EE tour to Detroit with other bands, more details tba.
July 19-20, 2014
Glenwood Arts Fest (TBA)
Saturday-Sunday, August 17-18
Private Event - Wedding
Sunday, September 14
HONK! (The Original)
EE's 9th annual tour to Somerville and Cambridge, MA.
Info: www.honkfest.org
October 9-12, 2014
MUSIC
Link to Downloads thru Band Camp
or
Link to physical disc purchases thru CDBaby
VIDEO

'Recording of Bunny XII' by Blake B. + Alyce H (YouTube)
A fun video! from our sessions at Wall to Wall Recording.
--------------------------------
"Ya'll are Funky!" Bootsy Collins
"I know they have a great version of Amazing Grace" Joan Baez
"EE, veterans of street action and indomitable spirits" Mark Messing
"You make me want to dance with my six year-old." Alex
"Inimitable." Hungry March Band
"EE has a storied NYC underground history" geminiandscorpio.com
-------------------------------------------------------------------------------------------
Environmental Encroachment (EE)
Copyright ©1996-2014
encroach((at))mindspring(((dot)))com