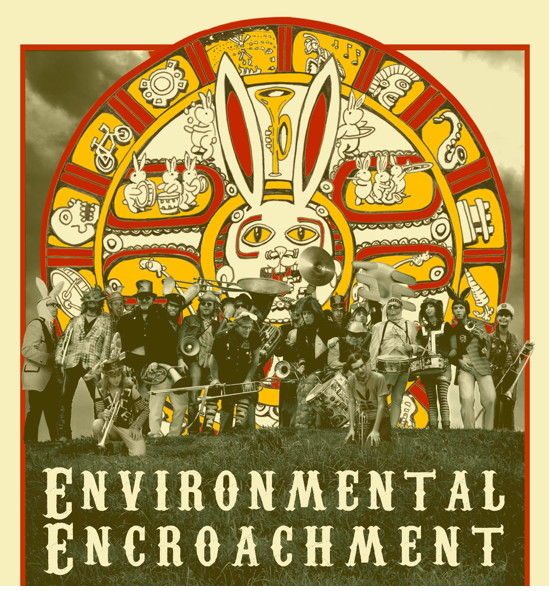 Environmental Encroachment - EE Marching Band - Chicago
Chicago performance art group Environmental Encroachment (EE) uses a marching band, costumes and theatrics to create unique entertainment environments for any event.

Upcoming Events: (updated November 20, 2014)
NEW - Four Original EE Songs on our EP.
Check it out on bandcamp. 99 cents a song.
Support Don Rupert.
Concerts for Kids Series
Sunday, November 23, 2014
11 AM - 2 PM
Thanksgivng Theme, wear your costume.
Facebook Event link:
https://www.facebook.com/events/715536381862414/
Beat Kitchen's Concerts for Kids
2100 W Belmont • Chicago IL
773 281 4444
NEW YEAR'S EVE: December 31st, 2014 - January 1st, 2015
Dinner and Count-down Event at Acadia Restaurant, Chicago
HONK OZ in Wollongong, Australia
January 7-10, 2015
An EE faction will be going to Australia~!
Check out EE on the schedule and read about HONK OZ;
The first International HONK.

CHIDITAROD X
March 7, 2015
Get Ready~!
MUSIC
Link to Downloads thru Band Camp
or
Link to physical disc purchases thru CDBaby
VIDEO

'Recording of Bunny XII' by Blake B. + Alyce H (YouTube)
A fun video! from our sessions at Wall to Wall Recording.
--------------------------------
"Ya'll are Funky!" Bootsy Collins
"I know they have a great version of Amazing Grace" Joan Baez
"EE, veterans of street action and indomitable spirits" Mark Messing
"You make me want to dance with my six year-old." Alex
"Inimitable." Hungry March Band
"EE has a storied NYC underground history" geminiandscorpio.com
-------------------------------------------------------------------------------------------
Environmental Encroachment (EE)
Copyright ©1996-2014
encroach((at))mindspring(((dot)))com