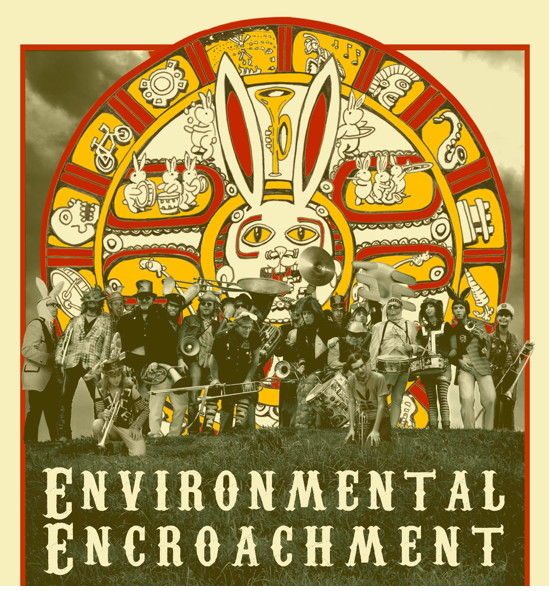 Environmental Encroachment - EE Marching Band - Chicago
Chicago performance art group Environmental Encroachment (EE) uses a marching band, costumes and theatrics to create unique entertainment environments for any event.

Upcoming Events: (updated September 1, 2014)
Dill Pickle Co-op Block Party
Sunday, September 7
11 AM - 4 PM
EE plays early at 11:45-12:30
The Comfort Station
(little building by Logan Sq. Monument)
2579 N. Milwaukee Ave
FaceBook Event Page:
https://www.facebook.com/events/530080917092212/
"a big event, with lots of food donated by local farms, a potluck, a pie contest, some fairground and lawn games, and there will also be some local businesses and neighborhood organizations tabling and doing various activities (acupressure massages, face painting and other kids' activities, food sampling, etc)."
Private Event - Wedding
Saturday, September 13 - (2-5 PM)
Private Event - Wedding
Sunday, September 14 - Ahoy~! (3 PM call)
EE - Black Bear Combo - Impossible!
Thursday, September 25 - Early Evening Show
Mayne Stage
1328 West Morse, Chicago IL
$12, $18 for reserved seating
18+
Doors at 7, Music from 8 PM to 11 PM
Facebook Event Page:
https://www.facebook.com/events/789441324445463/

http://www.maynestage.com
Private Event - Party
Thursday, September 18 - (7 PM)
EE's 9th annual East Coast HONK Fest Tour
First stop: HONK! Festival
Somerville and Cambridge, MA.
Info: www.honkfest.org
October 9-12, 2014
PRONK
Providence, Rhode Island
Monday, October 13, 2014
HONK-NYC!
New York City~! - TBA
October 14-17, 2014
Concerts for Kids Series

Sunday, November 23, 2014
noon
Thanksgivng Theme: more info TBA
Beat Kitchen's Concerts for Kids
2100 W Belmont • Chicago IL
773 281 4444
MUSIC
Link to Downloads thru Band Camp
or
Link to physical disc purchases thru CDBaby
VIDEO

'Recording of Bunny XII' by Blake B. + Alyce H (YouTube)
A fun video! from our sessions at Wall to Wall Recording.
--------------------------------
"Ya'll are Funky!" Bootsy Collins
"I know they have a great version of Amazing Grace" Joan Baez
"EE, veterans of street action and indomitable spirits" Mark Messing
"You make me want to dance with my six year-old." Alex
"Inimitable." Hungry March Band
"EE has a storied NYC underground history" geminiandscorpio.com
-------------------------------------------------------------------------------------------
Environmental Encroachment (EE)
Copyright ©1996-2014
encroach((at))mindspring(((dot)))com