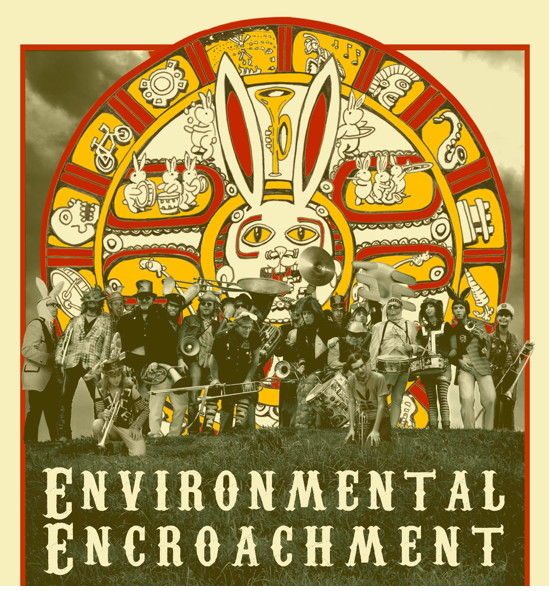 Environmental Encroachment - EE Marching Band - Chicago
Chicago performance art group Environmental Encroachment (EE) uses a marching band, costumes and theatrics to create unique entertainment environments for any event.

Upcoming Events: (updated July 1, 2015)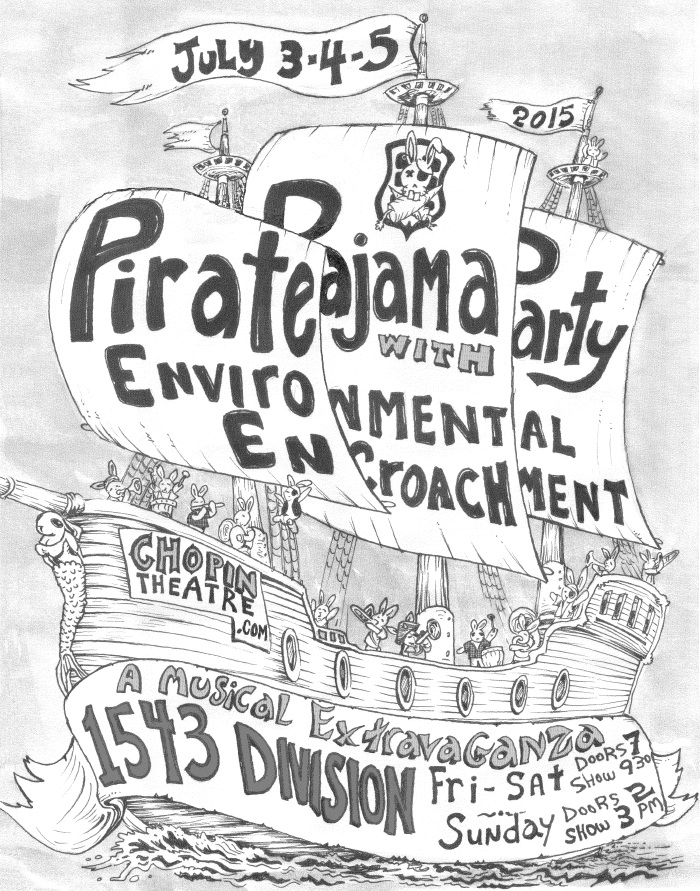 'Pirate Pajama Party' Week-end with EE
EE will be performing an original pirate-themed production at the Amazing CHOPIN Theater for a Friday and Saturday night shows, and a special family and children-friendly Sunday matinee.
The Chopin Theater is a Chicago treasured gem. Please buy tickets and support our co-produced re-venture into fantastic productions.
MORE INFO TBA.
Tickets and details available soon through EE and Chopin Theater.
Friday and Saturday, July 3 and 4th
PIRATE PAJAMA PARTY
Chopin Theater
1543 West Division Street
Chicago, IL 60642
Link:
http://www.chopintheatre.com
This show will feature a real pirate ship in waves, with our musical bunnies and friends in search of the fantastic and mythical "Bunny Island" on a real pirate ship, (on its maiden voyage).
Pirate Pajama Party is the theme.
Special EE Pirate Pajamas available or byop-j's.
Bar will be open with ID at Theater.
Show begins at 9:30 PM on Friday and Saturday.
Show will begin at 3 PM on Sunday.
Sunday, July 5
Pirate Pajama Matinee (family-friendly children's pirate remix)
Chopin Theater
1543 West Division Street
Chicago, IL 60642
Link:
http://www.chopintheatre.com
Show will begin at 3 PM on Sunday.
A children's-friendly version of our Voyage to Bunny Island show.
This show will feature bunny pirates, song, dance and a pirate ship for an unforgettable ocean voyage.
EE 'video release' at SFR
Friday, July 11, 2015

Come visit EE for a series at a venue in Logan Square.
Second Fridays through August, EE will be at:
SFR=Spanish Fly Restaurant
2830 W Armitage Ave, Chicago, IL
21+, donation for band requested
Music 8-11 PM
pre-Crash Detroit
TBA.
Thursday, July 16
Crash Detroit
A uninque festival featuring marching bands suddenly appearing in legendary vintage bars throughout Detroit's neighborhoods.Saturady will feature an all-band review.
Friday and Saturday, July 17-18
EE's second trip to CRASH - Detroit.
http://www.crashdetroit.org
Crash Detroit - Friday, July 17
Various Locations TBA, Detroit
Evening Events

Crash Detroit - Saturday, July 18
Roosevelt Park, Detroit
2200 Michigan Ave Detroit, MI 48216

FREE FOR ALL AGES - Daytime Event
Bughouse Square Debates
Saturday July 25th
Noon - 2.30
Newberry Library Bughouse Square Debates and Book Sale
EE will perform the kick-off at Noon and again around 1.
Free, debates in the park open to the public
Newberry Libary, 60 West Walton Street, Chicago
Ps our FIRST GIG that day, then we go to..........
Horse Thief Hollow Event
Saturday, July 25
Horse Thief Hollow
10426 S Western Ave, Chicago, IL 60643
(773) 779-2739
Around 5 PM.
Brass Band Night in a Beer Garden
Thursday, July 30
EE plays with 4-Star Brass Band and Air Urban Orchestra.
Music starts at 7.
EE plays at 9 PM.
$5-7, 21+
GrandBar
1600 West Grand Ave, Chicago

Announcing EE's Tour to Rio de Janeiro, Brazil
HONK RIO~!
August 6-9, 2015
This will be the first HONK festival in Rio.
EE is keeping its HONK perfect attendance alive~!
More info soon.
Deschutes Brewery Street Pub
Chicago, Location TBA
Saturday, August 22
More info soon.
Perrin Brewery Anniversary Party
Kalamazoo, Michigan
Saturday, September 19, 2015
Perrin Brwery
5910 Comstock Park Drive Northwest
Comstock Park, MI 49321
HONK! FESTIVAL and EE East Coast Tour
10 Year Anniversary
Saturday, October 8-17, 2015
More TBA
Link: www.honkfest.org
Announcing EE's Tour to Australia
HONK OZ
January 6-9, 2016
This will be EE's SECOND HONK OZ festival in Wollongong, New South Wales, Australia. We will be touring to a few other cities including Sydney. Keep posted a dn Please: Visit our Go Fund Me Page and Link.
Direct Link to EE's Go Fund Me Page:
bit.ly/FeedEE
More Info on EE's Australia Tour:
Help Keep EE's perfect HONK attendance alive~!

MUSIC
Link to Downloads thru Band Camp
or
Link to physical disc purchases thru CDBaby
NEW - Four Original EE Songs on our EP.
Check it out on bandcamp. 99 cents a song.
Support Don Rupert.
VIDEO

'Recording of Bunny XII' by Blake B. + Alyce H (YouTube)
A fun video! from our sessions at Wall to Wall Recording.
--------------------------------
"Ya'll are Funky!" Bootsy Collins
"I know they have a great version of Amazing Grace" Joan Baez
"EE, veterans of street action and indomitable spirits" Mark Messing
"You make me want to dance with my six year-old." Alex
"Inimitable." Hungry March Band
"EE has a storied NYC underground history" geminiandscorpio.com
-------------------------------------------------------------------------------------------
Environmental Encroachment (EE)
Copyright ©1996-2014
encroach((at))mindspring(((dot)))com