HONKing in NYC:
Some Survival Thoughts:
by Mike S - Trombone - EE - Chicago
September 2014
Noted edits from Adam Loudermilk - Snare - HMB/MMMB - Austin/NYC
*Updated September 2016
TRAVEL IN NYC
SUBWAY EVERY DAY* Everyone will need a 7-Day Unlimited Ride Metro Card for $31 (Get a card in advance and save a dollar?):
Wait until the first time you need to use the subway or train, and buy a 7-Day Unlimited Ride Metro Card for $31. Again, maybe a card is lying around to save the dollar for a new card. Hopefully you won't need the card for 7 days and 2 minutes, because it will be expired.
You most likely will be spending a lot of time on trains, in stations, planning routes, and traveling to and from them.
Rules and restrictions on your card: http://web.mta.info/metrocard/compare.htm
When arriving with your group to the station's turnstiles, have your card in-hand and ready.
DO NOT LOSE CARD and always have this handy.
You can get a free subway map, and/or have one on your smart-phone.
http://www.nysubway.com/
http://whatyourdonotknowbecauseyouarenotme.blogspot.com/2009/06/on-metocards.html
*Beware, some train lines have last-minute closings and restricted times, and can cause serious delays if you are not aware of the alternative routes.
-Instrument Cases can be a pain, try to get a soft-case, or the best way for carry and subway transport.
-Having GPS, or a GPS-enabled phone is crucial in NYC.
Two of many I-phone apps for NYC:
-Embark
https://itunes.apple.com/us/app/embark-nyc-subway-new-york/id450991137?mt=8
-There are a few versions of NYC Subway Map for I-phone.
"EMBARK - a good download for smartphones to help with navigation.
Also, https://www.hopstop.com/
-good for checking out trains and any construction, as well as for trip-planning purposes." Diego V. - Clar/Trumpet - freelance - NYC
TAXI CABS (Manhattan) only let 4 people ride, although, if you distract the cab driver, and have someone lay along the floor in back covered with some trombones, you can do five.
CAR SERVICE is for the more expansive boroughs and locations like in Brooklyn. You can ask for van's.
Get some numbers, ask your friends what the best local service is.
AIRPORTS
You can take the train all the way to JFK, but its an extra 5 dollars I think.
You can take a bus to LaGuardia (LGA). It takes a long while, as you may have to take a train and then transfer to bus. PAIN.
If you are all going to the same airport at the same time, you can use a AIRPORT SHUTTLE or CAR SERVICE, or taxi cabs. Call and schedule in advance.
TIME
It often takes much longer than you think to travel around in NYC. Be early. Set an early departure time and keep with it.
There is often one or two band members making everyone else late, and then it escalates. Give band members time warnings.
----Adam Loudermilk adds:
The New Green Cabs.
They only depart from outer boroughs. IE, you can't catch one in Manhattan.
They are there to make sure the outer borough residents get treated the same as manhattanites.
http://www.nyc.gov/html/tlc/html/passenger/shl_passenger.shtml
UBER - car ride share app
Some people really like Uber instead of cabs, but it can be sketch (*editors note, cool slang for 'dangerous').
There are a number of new apps for hailing cabs in NYC too. You can watch the cab on a map as it makes its way to you. It's kinda nuts. The future is now.
TRAVEL WITH INSTRUMENTS: LARGE and MEDIUM CASES:
If a large instrument player has a large hard case, I'd recommend that they leave that wherever you park the car, and just walk with their instrument on them for the duration in NYC; much easier to navigate MTA turnstiles. (Editor's note: repeat, make sure you are NOT hauling Enormous Luggage around New York, get a backpack case, make one, protect your brass though)
(ed., re:)Suggest to everyone that they check for train closures online before every subway trip.
http://www.thirteen.org/metrofocus/2012/07/11-best-transit-apps-for-mta-riders-and-commuters-in-nyc-and-beyond/
Bus options back to Boston:
http://www.wanderu.com/cheap-bus-tickets/new-york-ny-to-boston-ma
Megabus, Peter Pan, Bolt Bus, Lucky Star are recommended.
Fung Wah, if it's still around, is not recommended.
Try to get a bus that departs from Mid-town. Less sketchy than departing Chinatown, also less walking with luggage.
AT NIGHT AFTER GIGS
…you prob won't see cabs in that neighborhood late at night. I would take a cab from wherever you're at back to his place. Cabs from Littlefield and Gowanus Ballroom shouldn't be that much to get (back). $15 ish split 3 or 4 ways ain't bad.
----(*Thank You Adam L. - be Safe~!)

FOOD
Something for everyone~!
Best Cheap Vegetarian in LES/East Village: B and H Dairy: Get the Borscht and Bread.
Farmer's Markets are great right now in NYC if you can cook.
----Adam Loudermilk adds:
If you get the chance, there's place on Flatbush called Bamboo Express that is delicious and insanely cheap for lunch. It's West Indian meets Chinese. Don't order the Chinese stuff, get the Guyanese/Trinidadian stuff. Warning: use the scotch bonnet pepper sauce wisely - too much burn will make the Orisha power mother come out the other end with a fury. (ed.: translations?) For the veggie types, there's a place across the street called Zen that's pretty solid. Also, there's a great unsuspecting Indian food place called Gandhi at the corner of Clarkson and Bedford. Deelish.
----
Carlos Pecciotto's favorites: Mark Israel's Doughnuts, Dave's Briquette House in Brooklyn, Katz Deli,
EE Favorites: Patricia's for Italian, Pizza and Wine, Pakistani Tea House 24 hr in Tribecca, any Belgian Ale House, Sri Lankan on Statin Island.

POLICE
Do not mess with the New York City Police. They seem to tend to not care too much about artists doing crazy things, but don't break any laws.
Do not Jay-walk. Do not break any walking or biking laws. Bikes require front and back lights, and helmets are also law.
BUSKING
You can play music in most areas if you plan to busk. If "they" ask you to stop, or do anything, be nice and comply.
Busking in parks and train stations is permitted, except in certain locations, or if a musician with a permit has priority in certain designated spots..
http://www.vice.com/read/busking-in-new-yorks-urine-scented-underground
THE MET - CENTRAL PARK
If you have some free time, probably not, you can go to Central Park's Metropolitan Museum for practically free. It is 'Pay what you Can/Want". There they have an incredible collection of ancient musical instruments, The rare Asmat totem poles, a whole Egyptian temple, and paintings and stuff.
*NOTE: They will NOT STORE INSTRUMENTS in their coat room~! A real pain.
SECURITY
New York City, like many cities, requires diligence when carrying, storing, and securing your instruments, belongings and residence.
Adam has informed of some violence in New York. Do not wander alone. Do not wander drunk. Be aware, and know where you are and where you are going.
After gigs late at night, split cabs and/or call car services.
----Adam Loudermilk reports:
Ask about your HOSTS and VENUES and friends about your particular neighborhood and block: safety, tips, cabs, crime, etc.
(ed.:)(I think Prospect stop is safer than the Parkside stop. Parkside is where I saw graffiti that said "WHITE PEOPLE LEAVE." My friend Lily lives just a few blocks south of him, and I got mugged on her doorstep one night. Recently, there was a weekend with 3 shootings on her block alone (Clarkson Ave.), with over 10 more separate shootings reported in the Flatbush neighborhood all on that same weekend.)
STAMINA
New York is our mecca, and we want our bands to be at their best. This has been an extraordinary challenge.
At this point in the tour, some our bands will have lost players due to part-time touring.
Some of us will have bloody lips, sore feet, liver damage, and general exhaustion.
Be at your best and prepared. Get sleep, eat well.
EE has often borrowed other band members to fill out parts, and also for the love of collaborations.
----Adam Loudermilk adds:
Since there is no official Honk!NYC events going on Tuesday, I'd recommend that people use that day to rest before things kick back up.
Some will want to explore the city, and that is fine, just let them know that it's all going to be much more exhausting than Boston starting Wed, due to the nature of the city.
NYC has changed so much in the past few years. it's crazy. It's still always New York though.
----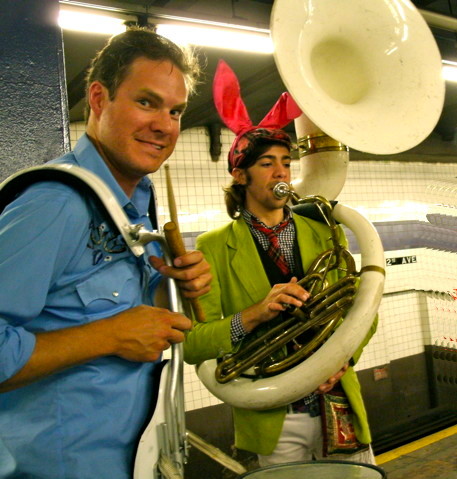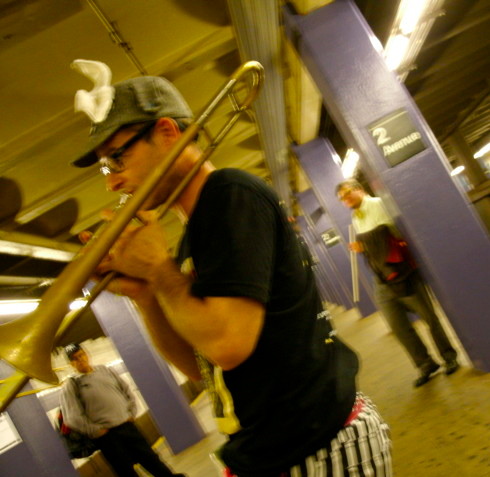 ----
Questions (from Squirrel=):
Q: What about Driving, for large gear, sousaphones, drums. Wouldn't a car be better?
Also, I need to get back to Boston.
A: NO~!
With parking/moving/photo tickets, towing, no parking anywhere$, no gas stations, vandalism, carjacks, accidents, etc,
You will lose money and your mind if you choose the CAR path.
-(EE is parking our car in the Bronx at a friends, and not touching it till after, if you do need to drive down.
It would be much better to just walk and train when you can,
When you HAVE to drive, for gigs, schedule a CAR SERVICE, or cab depending on where you are staying,
Part of playing sousaphone, is 'having to deal with enormous luggage'
-
Q: What about driving and getting back to Boston if necessary?
A: There is an inexpensive bus service from China Town for under 20 dollars one way to Boston, or plenty of commuter trains as well.
Their may even be ride-shares with other HONK folks, so keep the word out if indeed you have to drive.

-
-HONK-NYC APPROVED-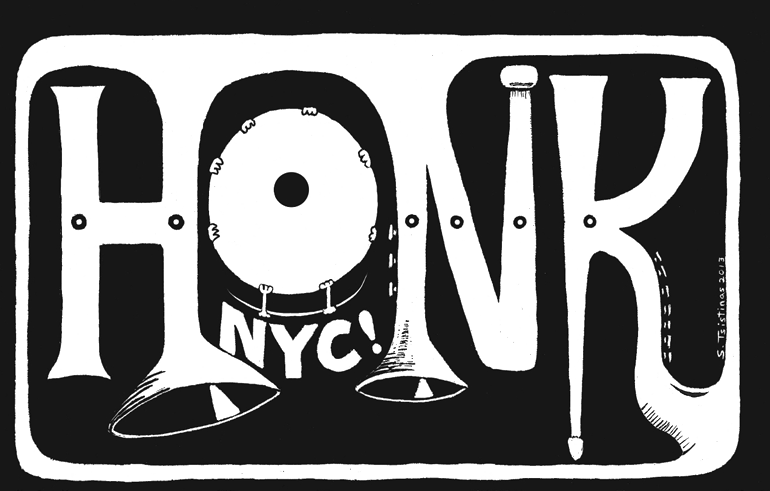 Environmental Encroachment (EE)
Copyright ©1994-2016
M. Smith, - Chicago IL 60622