EE at Oak Park's Unity Temple by Frank Lloyd Wright
for Unitarian Church and Lecture on Music and Mediation by Bret Lortie
Sunday, March 28, 2004

EE's long-time trombonist Bret Lortie (a candidate for the Unitarian Universalist ministry) preached at Unity Temple in Oak Park on "Music and Mediation." (not Meditation!)
Can improvised jazz music serve as a metaphor for mediating local and global conflict? You bet.
Music for the morning includes a 20-person choir doing an improvised Bach chorale, Steve Brod on solo soprano saxophone, and Environmental Encroachment closing the service with possibly the loudest postlude ever performed in Frank Lloyd Wright's famous "jewelbox"!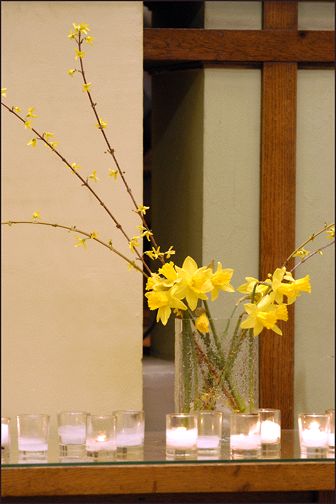 Our most "Prairie School" and still very Zen.
Unity Temple is actually based on a Japanese Temple.
Our trombonist Bret spoke eloquently on Mediation and Music..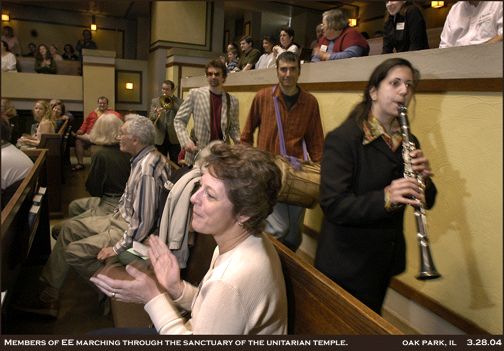 Let's feel it! We busted in for the "postlude" and march out of the sanctuary.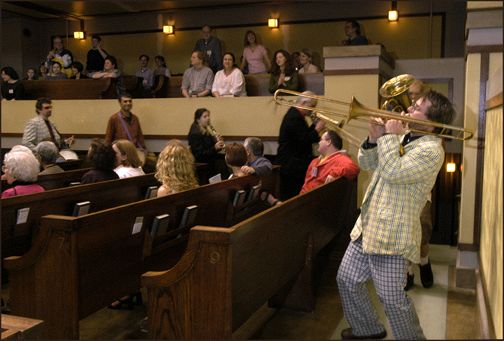 Everybody get up and flip!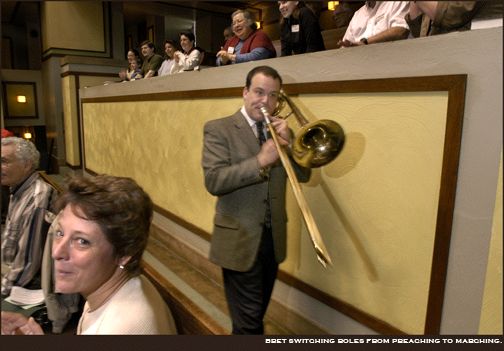 Unity did a good job with their new color scheme (see below).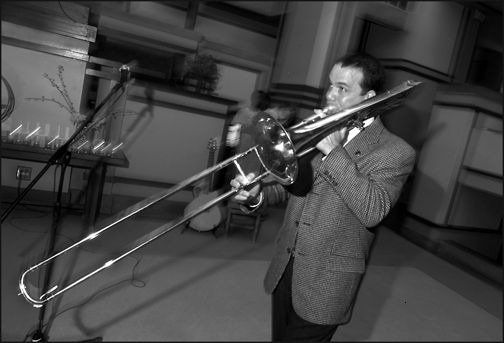 Harmonics with the EE horns were a natural environment for part of Bret's event.
Dominican Rap in the Sanctuary.
March to the lobby and get the rock show started!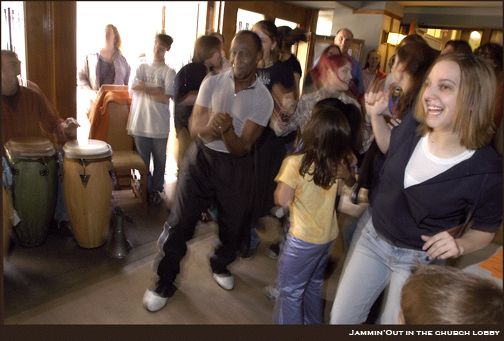 A hundred year funk high for the historic Unity Temple.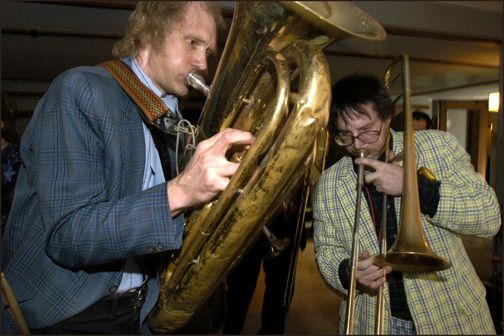 Period Brass.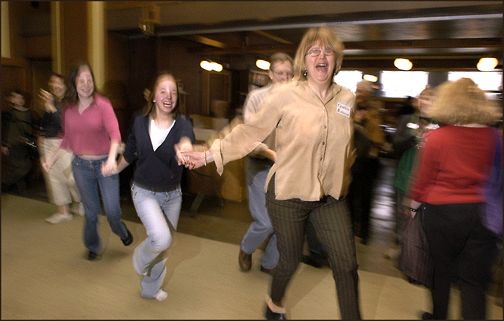 These people were psyched! What energy!
This guy won our award for "Most Creative Dancer" of the second set.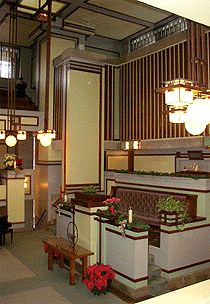 This can be a quiet place too.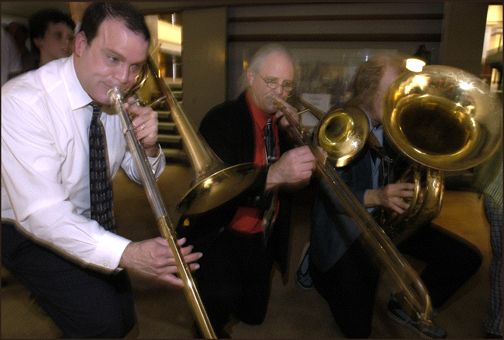 The building's spirit appreciated the vibrations, thaks Bret! Go Preacherman!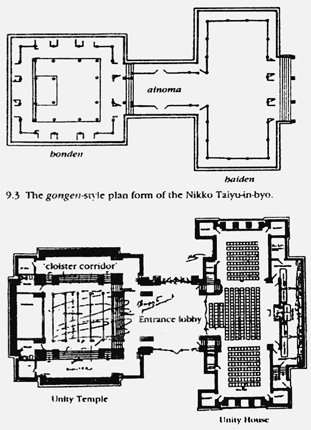 here's the Japanese floor plan
Questions, please e-mail Bret at blortie@meadville.edu
Unitarian First Church of Oak Park, IL
Unity Temple Unitarian Universalist Congregation
875 Lake Street
Oak Park, IL 60301
http://www.unitytemple.org/
Sunday Schedule: 8:30-9:15 Temple available for musicians to warm up
9:15-9:30 Meditation and prelude in temple sanctuary for 1st service (quiet period)
9:30-10:25 1st service
10:25-? Postlude (EE plays!)
EE performs additional piece in lobby from 10:35-10:45.

11:00-11:15 Meditation and prelude in temple sanctuary for 2nd service
11:15-12:10 2nd service
12:10- ? Postlude (EE plays!) EE can perform additional music up until 12:50 in the lobby, at which time the ghost of Frank Lloyd Wright emerges from his subterranean crypt so the paid tour visitors can worship him with their entrance fees.
---------
photos: www.alycehenson.com
Copyright ©1996-2004 Environmental Encroachment (EE)
Site Design by nanoSmith.net