Buughouse Square Debates,
Washington Square Park, Newberry Library
Chicago, IL, July 26, 2008
Bughouse Square Debates
Saturday, July 26, 2008
Noon - 4:00 pm
Washington Square Park (across from The Newberry Library)
60 West Walton Street, Chicago, IL 60610-7324
www.newberry.org
Environmental Encroachment is honored to be the featured musical entertainment for Chicago's historic Bughouse Square Debates, 2008.
photos from Mike Smith, more soon..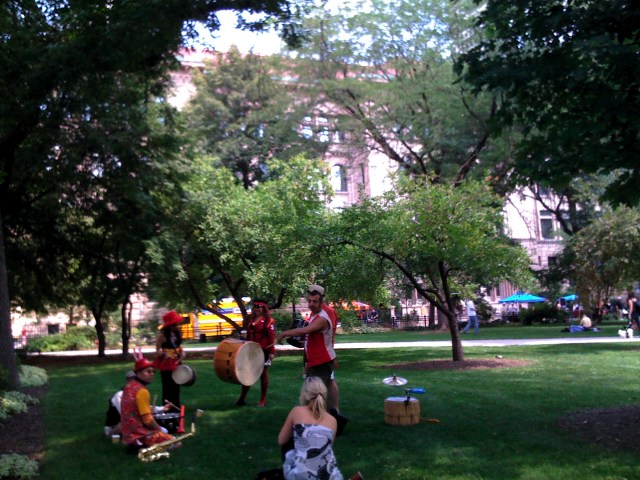 "When soapbox orators flourished in Washington Square Park (Chicago) in the 1920s and 1930s, they created a real sense of speech as performance, and speakers who drew crowds in the Park gave poetry readings or offered dramatic readings, and displayed art they created. We hope to create a similar kind of atmosphere in the Park for the Bughouse Square Debates event on Saturday, July 26, 2008, from noon to 4:00 pm.
Exercise your first-amendment rights and relive the days of soapbox oratory and public debates that immortalized Washington Square Park. Celebrate Chicago's long history as a hub of free speech with soap boxers and a compelling main debate. Bring your loudest heckling voice, and get on the soapbox yourself. An open mic and musical entertainment complete the afternoon's participatory pleasures. For gustatory delights, Chase Root Beer's hot dogs, fresh squeezed lemonade, and root beer floats are highly recommended. Prizes will be awarded to the best speakers and hecklers.
The Debates last year drew, at a conservative estimate, 500 people; and the event was covered in the Washington Post/ and TimeOut Chicago, and was recorded by CAN TV. This year Chicago Public Radio's Chicago Amplified will also be recording the event and will post the recording on http://www.chicagopublicradio.org/Program_AMP.aspx. The Debates are held while the Newberry's annual used book sale, the Book Fair, is open, which helps draw people into and around the Library.
Check out the Bughouse Square blog:
http://www.bloghousesquare.blogspot.com/
Environmental Encroachment (EE)
Copyright ©1996-2008
2137 West Chicago, APT CH, Chicago IL, 60622