Chicago Precompression: Burning Man PreKomp!
Chicago, IL, Aug 2, 2008
Photos courtesy of everyone, more to come.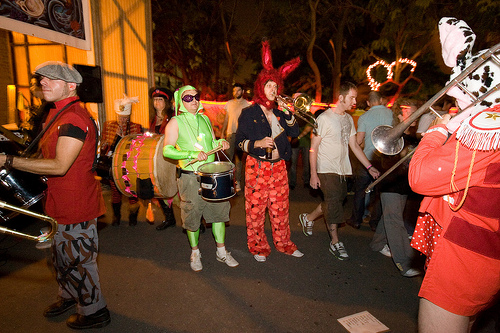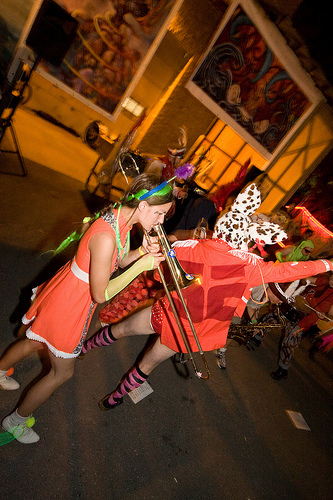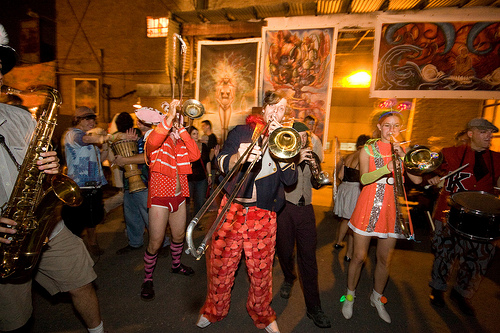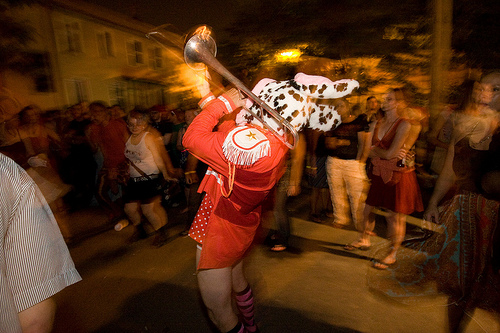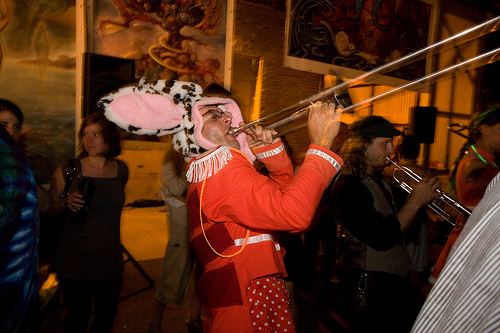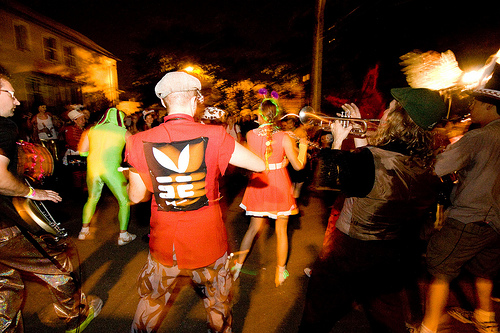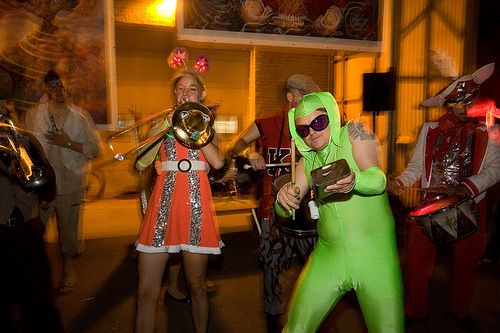 More photos on flickr and more to come here.
----------ORIGINAL FLYER:
Holy Shit!!!
The 1st Annual Chicago Burning "PreKomp" has Blown UP!!! As we gear up
for Burningman, let's throw down and celebrate our kickass community
pre playa.
The line-up for the 1st Annual Chicago Burning PreKomp, Sat August
2nd, is HERE!! And it's HUGE! )(
Prekomp is a community celebration for FUN for all Burningman tribes in the
great lakes region and beyond! And PreKomp is a FUNdraiser for our
Chicago artists that dare to brave the long trek out to Black Rock
City this Summer to infuse Burningman 2008 with some of OUR city's
most amazing art and vibes. (Chicago represent!)
The event takes place on Saturday August 2nd at 1900 W. Hubbard
(Minimonk's) from 6 p.m. until Noon Sunday Aug 3rd. Dress to Kill,
because PreKomp is an all night-all inclusive Indoor/Outdoor Multi
Tribe brain-aque!!
Here's the confirmed line-up so far... AMAZING!!!! : )
DJ's/Music
*Environmental Encroachment
*DJ Striz
*Cringer
*Miss Levi
*Radiohiro
*Jeekoos
*Carla Starla
*Derby
*Dhakfu
*Justin Reed
*DJ Ixnée
*DJ Warp
*Divine Balance Devi
*Ahura Mazda
*Chris Widman
*DJ Damon
*Steve O
*Brad Miner
*Duke Shin & Nate Manic
*Evol (Detroit)
*Sevron
*DJ Matt Alchemist
*Mark Ersfeld
Live Art and Body Painting:
*Amy J Designs/UV Glowin
*John Dinello
*Zach Franzoni
*Eric Esper
*Scott Bullock
*Ronit Mitchell
*Sabreena
Installations:
*Sloan (Playa Bound art!)
*Pantheodomes by Pantheogenesis (Playa Bound art)
*"Ezekiel's Dream" by Josh Sheldon (Playa Bound art)
*The Blue Lotus Tea Salon (Playa Bound art)
*Libido Lounge (Playa Bound art)
*Sew-OP (bring your cool old clothes & reinvent!)
*ChiditorArt (Street Bound art)
*The IAMU Collection (iamunified.com)
*The Decapitated infamous Cid the FrankenCobra (not playa
bound... yet)
*Burners Without Borders (info:how u can help)
AND!!!!
**Chicago's 1st Crap Redistribution! hosted by Pynecone
(bring it in-take it out, it is what it says friends, your toaster -
my zip drive? my old playa gear- your old playa gear? trade, take,
share, barter, gift - RE-Distribute!)**
Decor and Vibe:
*Rendezvous Promotions
*Brilliantly Mad
*Sew-Op
*THE Playafied Pancake Cookoff Challenge
*La Linda Loca's Tiki Kava Cocktail Sunrise
*Pantheogenesis
*Night Nurse Rangers
*John Sacelli - tarot readings (tentative)
*Laser installations by Midwest Mayhem
*Hookah Lounge
The BEST Sound:
*"Funktion ONE" by Sound Investment
*Illmeasures
LIVE Video:
*Video Janitor
*M1 Interactive
-more video artists to be confirmed...
Rooftop Stage Performance:
*KC from Bella Fuegas
*Strings Of Fire (w. Peachfuzz & Blagomira)
*Circo Rose Performing Arts troupe.
*Varietease Cabaret
*Read My Hips
*Laura Chiaramonte -Internationally inspired Modern Dance
*Dancers: Cindy, Tiffany, and company Intentional Dance- Delightful Treasures
*The Hoopalicious Power Hour!- UV/Fire Hoop Performances
*Fire Family hosted by Mark Lerro of SPUNN
*Justine Light- Stage Design
Outdoor Fire Jam circle (public):
*Pyrotechniq
*Detroit Fire Freaks
*Chicago Fire Tribe
*YOU! ???? ; )
*additions/corrections to the PreKomp line-up will be posted next week
-----------------------------------------------------------------------------
INFO:
SAT:AUG 2nd:1st Annual Chicago Burning PREKOMP: 6 p.m. until Noon Sunday
1900 W. Hubbard:Chicago: (across from Resonate 3)
$10 suggested community donation. Indoor Outdoor/18+ after 11 p.m.
All Profits go back to our Burningman Community at Large ! 100% Complete
Transparency.
)(
The PreKomp Krew!
"Ask First"
"Respect Community"
"Leave No Trace"
"PreKomp was better last year"
www.burningmanchicago.org
----------------------------------------------------------------------
Because of the enormity of this community based non-profit playafied
event, we would LOVE your participation, there are plenty of openings
left for most honorable volunteerism as PreKomp Krew Gatekeepers,
Rangers, Greeters, DPW, and Do'ers... setup is Friday Aug 1 after 5
p.m. at 1900 W.
Hubbard, tear down Sunday night Aug 3rd. Rain or Shine we got you
covered!
Environmental Encroachment (EE)
Copyright ©1996-2008
2137 West Chicago, APT CH, Chicago IL, 60622