Battle of Halsted Viaduct
Historical Re-enactment of famous Chicago Labor Battle
EE Magic Circus Band performs!
May 2, 2010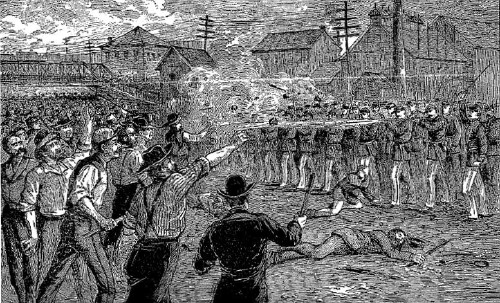 BATTLE OF THE HALSTED VIADUCT
SUNDAY, MAY 2, 2010
3:00 PM Sharp!
On the SIDEWALK at 16th and HALSTED, adjacent to the VIADUCT
A Historical Reenactment in three acts Depicting Chicago's role in the GREAT STRIKE of 1877
A CALL TO ARMS! A CALL FOR VOLUNTEERS!
WORKINGMEN OF CHICAGO!
Have you no rights? No Ambition? No manhood!
Join the Reenactment as part of the HOWLING MOB
Or the 12th Street Station POLICE under the command of Lt. Callahan
BOHEMIAN AMAZONS and RAGAMUFFIN TROOP welcome! All are welcome!

Dueling Interpretation by the Hon. Allan Pinkerton and Albert R. Parsons
Festive Music by Environmental Encroachment, www.encroach.net
Light refreshments afterward, hosted by the Hon. Kenneth Morrison, whaler.
Period attire encouraged! Prize for the best mustache and side whiskers! Safe projectiles provided! Event is FREE!
Wire pockeguidetohell@gmail.com to join the police or simply show up as part of the mob or an Amazon!
**Note: This is an open call for a reenactment of an actual event that occurred on this site in Chicago in July 1877. Pocket Guide to Hell Tours strives to respect the historical record through thorough research and attention to detail.**
MORE PHOTOS (added Feb. 2011)
http://www.viceland.com/blogs/en/2010/05/12/the-battle-of-the-halsted-viaduct/
http://steampunkchicago.com/articles/reenactment-of-battle-of-halsted-viaduct-fun-outlandish/
Environmental Encroachment (EE)
Copyright ©1996-2010
2137 West Chicago, APT CH, Chicago IL, 60622