Resonate 5.0
Chicago Burning Man Party
Chicago, IL, April 24, 2010
Saturday, April 24th
RESONATE
Congress Theater!
*The Congress is an amazing historic huge! theater!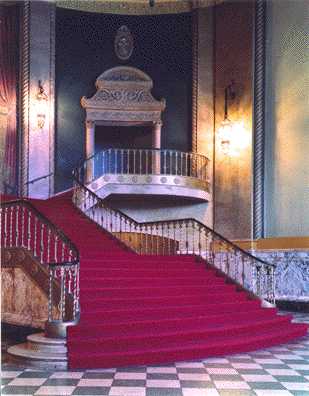 ANNOUNCEMENT_ RESONATE 5.0, Sat. 4-24, LINE-UP & TIX ON SALE TODAY
RESONATE 5.0 - Saturday, April 24th, Congress Theater, Chicago.
7 p.m. until 3 a.m., 18 +, www.resonatechicago.net or www.congresschicago.com

Inspired by the Burningman arts festival in the Nevada desert,
RESONATE is one of the largest DIY multi media arts & music
collaborations in the country. In it's 5th year of inception, this
year's RESONATE features a record number of art installations and over
260 volunteer participants. The idea is to de-commodify art and music
altogether as the motive of artistic inspiration. This idea of
de-commodification brings out the true spirit of the creator. One
must do it simply for the pure love of creation, because there is no
financial gain.
RESONATE is pure in this form of gifting by giving 100% of it's
profits out to the Burningman community in the form of art &
production grants. Over the past 4 years, RESONATE has raised over
$35,000 for this purpose alone.
This year RESONATE 5.0 has an amazing line-up of artists and musicians
coming to Chicago from coast to coast. RESONATE has exponentially
outgrown it's previous confines year after year, and has been moved to
the beautifully ornate Congress Theater (built in 1925). This
graduation has provided the producers of RESONATE with top notch tools
for putting on this one of kind show.
Unlike many other events, RESONATE is completely interactive with it's
audience,
encouraging participation instead of spectating. Most of the art at
RESONATE is being created LIVE on site. Giant art sculptures and
video installs are made specifically for you to interact with. Top
notch DJ's and musicians from all over are pushing the envelope on
cutting edge dance music, collaborating with aerial & stage
performances. RESONATE's healing rooms provide free energy and body
work to the entrants by trained professionals. Fire Spinning Poi
dancers will be immersed with the audience right on the dancefloor on
blacklight and LED stages.
Come out to RESONATE 5.0 and see why 'the Burningman community' is
what it's all about. We've specifically kept the ticket price of
RESONATE 5.0 low so all can afford to experience this amazing creative
community.
Tickets for RESONATE 5.0 can be purchased at www.resonatechicago.net and/or
www.congresschicago.com.
RESONATE 5.0 - Congress Theater, 2135 North Milwaukee Avenue Chicago
Chicago Burningman Tribes Come Together for the Ultimate Multimedia Freakshow!
Saturday, April 24, 2010, 7 p.m. until 3 a.m.
MUSIC
Karsh Kale - DJ set and Live Tabla-tronics (NYC, Tabla Beat Science)
Mike Kandel (Tranquility Bass)
Radiohiro (Hookahdome BRC)
Striz (illmeasures)
DJ Warp (Bombay Beatbox)
Justin Reed (illmeasures)
Janaka Selekta (Hookahdome, San Francisco)
DOJO and Twitch (Catalyst)
Brad Miner (illmeasures)
Jeekoos (Dubfront Records)
Dan Bitney (Tortoise)
Dirtball (Detroit)
Matt Alchemist (Midwest Mayhem)
Magpie
Duke Shin & Nate Manic
1000 Vertical Feet
Carla Starla (BrilliantlyMad)
Dhakfu (Bombay Beatbox)
DJ Form
The Funky Professor (Indianapolis)
Adrienne Sanchez
music line-up updated weekly at: www.resonatechicago.net
LIVE VIDEO INSTALLATIONS
Video Janitor
Stoptime341
MF Chicago
Sound Investment
Mason Dixon presents "Somatic Death, Soma Life" (Psymbolic)
REVEAL interactive video by Sam Porretta
Merkaba Visuals
M1 Interactive www.lightscribble.com
Gordon Kummel "light painting"
PERFORMANCE
The Knock Knock Hot Spot cabaret
Dollface
Maya Sinstress
Emily Knoblauch - Aerial silk performance w. Karsh Kale
Environmental Encroachment
Chicago Fire Tribe
Urban Lotus Yoga featuring Mark & Erica
Eric Lester
"Detach & Release" choreographed by Cindy Huston
Jill Heyser - Aerial silks
Solaire - Blackilght
LIVE ART
Sean Tron
Scott Bullock
Ronit Mitchell
Andrea Bare
Zac Franzoni
Eric Esper
Jason Brammer
Amy J Designs
Blake Thomas Kennedy
Gaea
Raecyn Forcia
Lera G
Sabreena
Elle Sorokin
David Hillborn
Jody Cox
ART INSTALLATIONS
Fungus Humongous - by Yva Neal & Elysia Lock
Lunar LuminEssence Lounge
The Muchi Muchi Wabi Tea Dome
The Freakeasy
One Of Nine - The Giant Mushroom Rocket
The Dionysian Forest by the Dionysus Festival
Darklight
Sloan
A Cartridge In A Pear Tree - interactive art
SEW-OP live silkscreening
Galactic Clothing live silkscreening
Kevin Loftus
BrilliantlyMad Zen-I-Den
Glitterguts portrait studio
Kaikou Designs
Magnetic Field Visualization
Burners Without Borders
William Ching
The Resonation Healing Room
John Sacelli
Gustavo de la Torre
Meghaa Mariposa
Adam Broder
Matt Churney
Chicago Burningman DPW
Sound Investment
Chiditarod Cart Art
Bad Advice Bears
Games Of Enchantment
Joey villa Gomez
Rendezvous Productions
BrilliantlyMad - Love Guides
SOUND AND LIGHT INSTALLATIONS
Sound Investment featuring FUNKTION ONE
Teknosis Audio and Lighting
Audio Intergrated Services featuring VOID

updates weekly...

Resonate is a leave no trace event inspired by Burningman.
ask first : respect community : leave no trace
questions? contact: resonatechitown@gmail.com
Resonate 5 would not be possible without the help of hundreds of volunteers!
All profits from Resonate go to fund art throughout the burningman community.
Resonate 5 is an 18 and over event
www.resonatechicago.net and/or www.congresschicago.com for tickets and info
Environmental Encroachment (EE)
Copyright ©1996-2010
2137 West Chicago, APT CH, Chicago IL, 60622