HONK at SOURCE, Maui
Resource Page
Maui, HI, February 17-21, 2011
February 17-21, 2011
HONK~Maui at The SOURCE Festival:
Island Marching Band Island All-Stars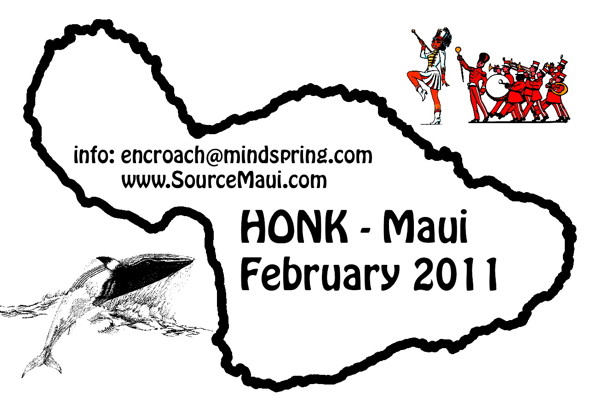 *Maui's airport code is OGG.
The Transformational Marching Band is materializing at SOURCE festival on Maui, Hawaii, to add elements of a HONK Festival-style environment.
The Transformational Marching Band is a mobile, drum and brass band, formed by individuals from around the world and especially the HONK Festival Circuit, to gather, inspire, play, and invite. A gathering of these has been organized into what now has become a brass and drum band movement, inspired by HONK Festival and its set of values (www.honkfest.org). These bands engage communities with music, inter-action and spirit. Band members from Environmental Encroachment (Chicago), March Fourth (Portland), Tubaluba and Yellow Hat Band (Seattle) will be attending, with many more local and visiting artists from 3 Continents.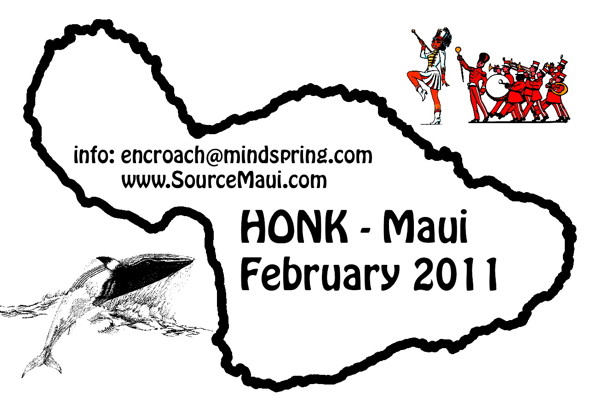 "SOURCE is Maui's largest annual multi-media arts, music and healing festival…… at beautiful Camp Keanae on the wild tropical coast of Maui." (more on SOURCE below)
Activities at SOURCE Festival will include:
1. Music for SOURCE Festival events and ceremonies
2. A Pirate parade in Lahaina
3. A Polynesian percussion workshop and musical exchange
4. A concert at the SOURCE talent show
Of course, you will want more than 4 days in Hawaii. Our full HONK-a-teer dates will range from February 16 - March 1, depending on what individuals can do.
HONK activities outside the festival will/may include:
1. PAID gigs (at this point, the trip will be a self-funded one, with fund-raising options being researched currently to offset travel costs)
2. Concert for the Humpback whales there in rearing young in February
3. Concert at the brim of Haleakala Crater (alt. 10,000 ft!)
4. Jam and photo shoot at the "liquid tree" covered abandoned Sugar Plant
5. Recording and party at FUZZ BOX studios
6. Boat trip and overnighter to Lanai if appropriate
7. Cliff diving, hiking, snorkeling, and lots more.
*again, United Airlines is offering a 5% discount code for SOURCE festival attendees.
Use this code - 587BS - at United's toll-free reservation line (1-800-521-4041), www.united.com or through a travel professional.
-
*from www.sourcemaui.com:
"SOURCE is Maui's largest annual multi-media arts, music and healing festival. This year we invite you to join us from February 18th until February 21st at beautiful Camp Keanae on the wild tropical coast of Maui.
For four days and three nights we will celebrate, educate, express, and enlighten ourselves and our community through the power of artistic expression and diverse "Soulutions" to social, environmental, and individual issues we experience as humans.
SOURCE is modeled off of Burning Man in that we share the ethos of the gift economy while encouraging radical self-expression, radical self-reliance, transformative experiences through communion with nature and interactive events with other human beings. In addition, we leave as little human footprint at beautiful Keanae as possible and make it a priority to improve the area for future use.
The theme for 2011 is: Four. Our communities face many challenges environmentally, socially, politically, and culturally. It is our kuleana as conscious beings to help bridge the gap between different cultures, community needs vs. individual needs, creating solutions to environmental questions, and spreading the message of tolerance, compassion, and making a positive step towards a peaceful 6 billion person cohabitation experiment we call the Earth.
SOURCE Soulution is a way to showcase solutions to these issues through music, healing workshops, theater, film, large scale art installations and mind-blowing discussion panels. Our kitchen will be serving a wide variety of health-conscious choices and is run by some of our new top food artists here on Maui. Lodging is available on site through bunkhouses or tent camping."
For more information: www.sourcemaui.com
Please contact me for costs and further info on logistics:
Mike Smith - encroach@mindspring.com
www.encroach.net
Please contact Mike Smith or the Source Festival if you are interested in participating.
encroach((at))mindspring((dot))com

Songs we will be playing:
Blue Monk
Caravan
St. James Infirmary
Moby Dick
Ole Maui
Rock Anthem
Bumper to Bumper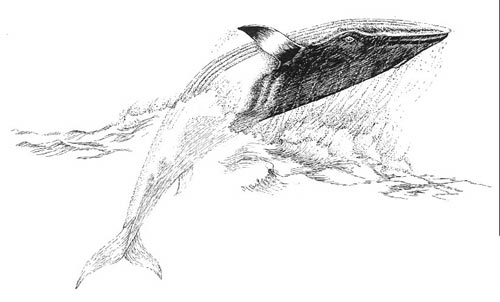 Environmental Encroachment (EE)
Copyright ©1996-2011
3815 West Dickens, Chicago IL 60647