Burning Man Festival 2003
Post Playa Thoughts from Mike Smith
Mike Smith,
Burning Man 2003
Environmental Encroachment
EE
www.encroach.net
I am very grateful for the opportunity to be a participant in the best arts festival I have attended, Burning Man, a life changing, inspiring and challenging festival.
I am from Chicago and director of a performance group called Environmental Encroachment (EE- www.encroach.net). We have a marching band and I was on sort of a smaller scouting mission since only four of EE could make it. I, and others around me, RESPONDED. I found the "Burning Man Spirit" to participate, and initiate creative and helpful events was crucial. I was invited with encouraging arms (being a trombonist helped) into practically every event and environment. I feel like I gave back to the spirit.
There were so many highlights for me; the art-cars and city-lights, participating in the Bachannal parade, crying during the burning of the man, playing trombone in special situations, finding a praying mantis and it riding on my shoulder to the temple burn, extreme elvis. . . . . they go on and on.
Reading all the packing lists, and burning man links I could really helped my preparation.
I feel I need to share these notes I made during the festival.
Preparation:
Start early. The web site's links are all worth study. Rebar and Kitchen info areas are of important concern. Remember to bring safe burnables to unload weight, not to create garbage, and Leave No Trace. Transportation getting there, while there, and the Exodus back, clean-up and decompression time are concepts to get a handle on asap. Familiarize yourself with the Burning Man City Map provided on Internet, talk to Burners and read.
Structures:
The first Sunday, a huge dust-storm hit and knocked down a nearby scaffolding structure, no injururies, but a lesson. Everyone in our area had problems except a group with breathable, shade camo, anchored with rebar, low to the ground. Especially if you plan to go high, plan for that Biggie Wind Storm. Having a shade structure is very important, with specific no-shoe areas, area for kitchen and coolers, area for sleeping tents, and possibly rooms with other functions. Cars and trucks are good "tall" anchors and good for wind blocks. Have an architectural plan and practice building it before you come out. It was challenging keeping everything together in our camp. Our camp started at roughly seven of us and grew to fifteen. Clutter, darkness, and dis-orientation added to spending time trying to find things. Keep your camp clean and totally organized and you will spend less time later looking for stuff. A flashlight may get lost when you most need it.
Bikes:
I was glad to have two, one tandem and one regular. Keep them well lit up at night!! My light was smashed accidentally on the first night, I also lost my only bike lock key. Have extras, and extra bike parts, had two flats to fix on tandem, and also did a session of bike maintanance and cleaning for a few bikes in camp. I had the proper wax based lubricant for the chain. Have a Comfy seat, tools, spare parts, know a bike savy mechanic. Light up (important to be seen), and make your bike an art creation! Sound for your bike too!
Dust Storms:
The two biggies were the first Sunday and the last Sunday (as I recall). The first blew down just about every tent around us. Have a respirator or dust mask and place to hide. Also, have good goggles. Seek shelter. The first dust storm lasted for hours and really took a lot out of me psychologically. I was so paralyzed, huddled by our truck, with our gear still in a pile. Study suvival guide articles like Rebar 101 on the BM site, and prepare personally and architecturally for the Dust Storm as an extreme condition. Dealing with it was new to me. The second big dust storm happened during strike, which made it hard to work. A friend was caught on the playa without his goggles and paid. Have a bandana and/or scarf, sun hat and UV shades at all times during the day. Lips take a beating too. Bring extra lip balm. I learned out there that vinegar balances the natural ph as the playa dust zaps your skin.
Personal:
DAY Bag, lip balm, sun stuff, h2o, etc
NIGHT Bag, flashlight, person light or glow stick, lip stuff, personal, h2o, earplugs, etc
Biodradable personal wipes were very nice to have.
I used my eye wash to help a friend who had a particulate in his eye from a dust storm. Also used tea tree oil on scrape from rock installation. Two in our camp had to get IV's due to dehydration at the medical tent. Another had a cut from a bike accident (not her fault). Keep alert and safely hydrated. Get nutrients! Your body wants to not eat due to the heat.
Keep aware for your camp mates, neighbors, and friends. We had such a nice, great neighborhood.
Packing Lists: Tool list (Rebar stuff, way to get rebar out of ground, I saw pick-axe, bumber jack, vice-grips, crow-bar, etc)
Lists really helped me, clothes for ride out, costumes, food, camping, transportation, etc,
A "yearbook" or journal for names and notes was helpful.
Kitchen issues:
Conserving water, grey water, drinking water, shower water, etc water. Leave no trace, recycle, reuse, plan to bring safe burnables, dehydrate garbage and waste water. Keep a Dry cooler for food. Ice issue, $2 bag, transportable, cooler and drinking coolers, misters. Foods: Salt is important, sea salt or mineral salts, bee pollen is high energy high protein, fruit roll ups, organic home-made if possible, no junk food to rob you of nutrients.
Post BM de-compression time and clean up:
Give yourself time to decompress. Cleaning that dust is insane, we took our rented and devastated SUV to a pro wash in LA, took four guys 2 1/2 hours! It was necessary. All photo equip will need professional cleaning. Bikes, carpets, and gear may need power washing. Adivice I was told; Bring stuff that can be lost, damaged, or permanently affected by this dust. Don't bring your best if you can't deal with it getting hammered by the alkali dust.
Weather
Hot Days, Cold Nights, high desert dryness, possible mud-clump rain, dust storms, high winds,
Dust, wind, heat, and sun will wear down rubber, dry up adhesives (tapes), and corrode metal, and be rough on skin.
Some suggestions?
1. Horn calls, specific calls for things like warning of storm, dust or rain, end of duststorm, emergency, special times?, I tried tooting a horn call at the volunteer's lunch one day. Also to warn people of coming dust storm.
2. Encourage BM radio (year round internet)
3. Encourage even more Leave No Trace
4. I saw pink porta potties in gerlach, maybe pink ones could mix in as sit down only.
5. Encourage mobile recyclers, ours was very great (cans-guy on bike)
6. Maybe a camp to camp OFFICIAL Donation and Distribution system during strike. The rangers could drive slowly with a pick up.
7. Make extra keys to everything, especially vehicle, and wire them to bottom of vehicle frame, then duct tape.
You may bite off too much. . . . There were so many things, and so little time. Setting up and re-setting up camp, with unexpected visitors, took effort and left us with rough hands (even with gloves). Prepare to use some unexpected time for camp, cleanliness, changing a tire, looking for a lost flashlight, etc. A dust storm could take up three hours of the middle of your day. A pace and hydration will help you to not burn out early. Things are far and great distractions many. For a journey, or performance, or task, give yourself ample time. I had so many things on my list "to do", but couldn't. I do not regret any moment, but now know that there is way too much for one person to see at Burning Man. Expect the unexpected. Be prepared to Plan time to volunteer, Plan time to pick up trash. Plan time to help a neighbor.
I have more notes that I plan to re-organize and publish on www.encroach.net I again, am grateful for this experience and appreciate this community. I am planning a return, hopefully with our marching band. Next Year ideas include: solid shade architecture, flame-throwing trombone, bike-horn, jamming with Tesla Coil, etc.
Mike Smith
Environmental Encroachment
ee
www.encroach.net
Chicago IL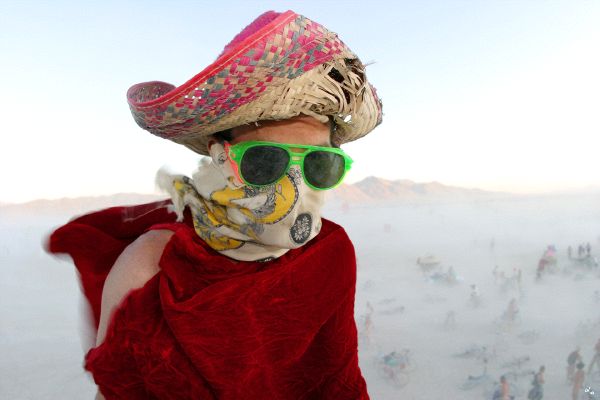 Dust Storm on the Playa Overview from the Temple of the Man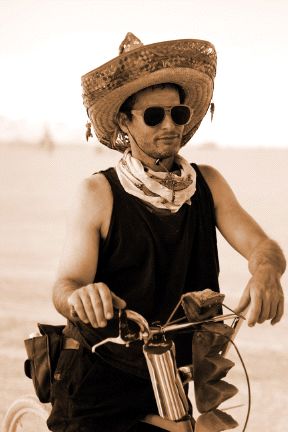 On the bike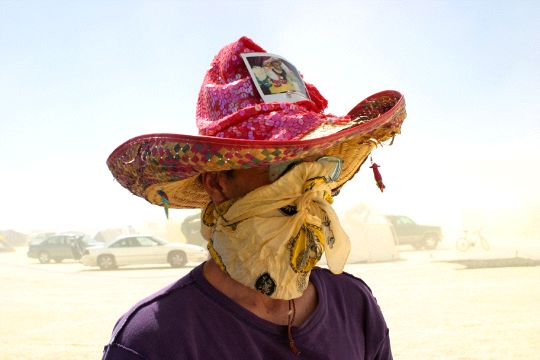 Dust Storm - first day, still open space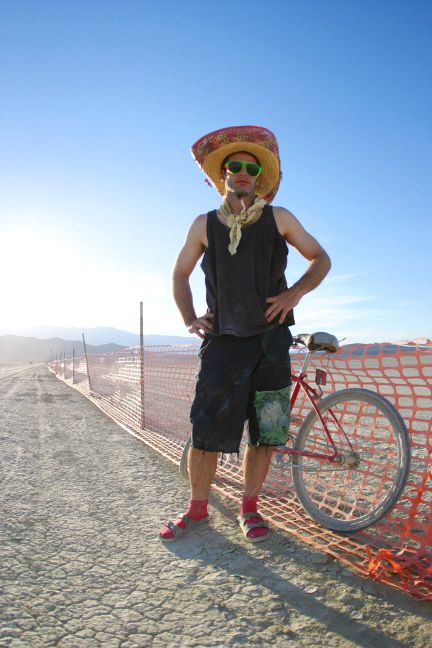 Border shot
Portraits by Christian White
Back to our Burning Man 2003 Main Page

Copyright ©1996-2003 Environmental Encroachment (EE)
Site Design by nanoSmith.net